TEACHING WRITING NARRATIVE TEXT USING PICTURES TO THE FIRST SEMESTER STUDENTS OF FACULTY OF SOCIAL AND POLITICS UNIVERSITY OF TULUNGAGUNG
Dwi Ima Herminingsih

Universitas Tulungagung
Abstract views:
152
,
PDF downloads:
509
Abstract
The essential function of the language helps people sharing what they think and feel by oral or written form of language to others. Empirically and theoretically noted, the communication often fails delivering the message if the language used is not the native language of the communicators. Misunderstanding sometimes occurs not only because of the meanings of words used look unfamiliar but also the lack of ability to arrange the true sentences to express idea, thought and feeling. In the context of Indonesia, particularly at faculty of Social and Politics, University of Tulungagung, the students 'attainment in English is not good when they are assigned to have the writing practices. Their poor mastery in vocabulary and grammar make them difficult to finish the writing tasks.  Having look what happen to the students, the English teacher should be innovative to perform the teaching performance which is   helpful to tackle the student's problem. Using pictures can be a good choice to guide and ease  the students to produce a well-organized writing.
Downloads
Download data is not yet available.
References
Boey, Lim Kiat. 1975. An Introduction to Linguistic for The Language Teacher, Singapore : Singapore University Press.
Cantony,Gina and Harvey, 1987. Content Area Language Instruction Approac And Strategies. California: Addison Wesley Publisher Company.
Dixon N Carol and Nessel Denise.1983, Language Experience Approach to Reading and Writing, New Jersey: Prentice Hall, Inc.
Gerlach, Vernon S, and Ely, Donald P.1980,Teaching and Media: A systematic Approach. New Jer-sey: Prentice-Hall, Inc.
Harmer, Jeremy.1983, The Practice of English Language Teaching, Hongkong: Wing Kong Tong Co.Ltd.
Heaton, J.B. 1975. Writing English Language Tests. London: Longman Group Limited.
Kasbollah,K. 1993, Some Consideration for The Decision Maker for Design English for Children Program : Syllabus, Material and Qualified Teachers. The paper was presented in the English Week VI Seminar, November 8,1993. Malang: English Department at Stat University of Malang
Kemp, J.E and Dayton, D.K. 1985, Planning and Producing Instruction-al Media.New York: Harper Row, Inc
Kemmis & Mc Taggart.1982. The Action Research Planner, Melbourne, Victoria: Deakin University Press.
Lado,Robert, 1979. Language Teaching: A Scientific Approach. New Delhi: Tata Mc Graw Hill Publishing Co, Ltd.
Locatis Craig N, and Atkinson, Francis.D. 1984, Media and technology for Education and Training, Columbus, Ohio: Bell & Howell company
Mc.Crimmon, J.1980, Writing With a Purpose, Boston: Hounglon Mifflin Company.
Mercer, Cecil D, and Ann R. 1981, Teaching students with learning Problem. Ohio : Merrill Publishing Company.
Nelson, HC, 1989. Drawing Activity as a Tool for Language learning, English Teaching Forum, XXVII (4) : 33-34.
Nunan, D. 1999. Second Language Teaching and learning. Boston: Massachusetts: Heinle & Heinle.
O'Malley, JM, et.al, 1990, Learning Strategies in Second Language Ac-quisition.
Rachmadie, Sabrony.2002, Teaching English as a Foreign Language(TEFL) IV Jakarta: Pusat Penerbitan Universitas Terbuka.
Savage,John F. 1998. Teaching Reading and Writing: Combining Skills, Strategies and Literature. USA: Mc. Graw Hill Companies.
Tompkins, Gail.E. 1994. Teaching Writing : Balancing Process and Prod (2nd Ed). New York: Macmillan Publishing Company, Inc.
Wright, Andrew. 1989. Pictures for language learning.New York: Cambridge University Press.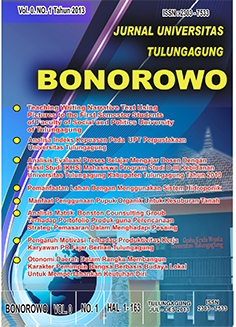 How to Cite
Herminingsih, D. I. (2013). TEACHING WRITING NARRATIVE TEXT USING PICTURES TO THE FIRST SEMESTER STUDENTS OF FACULTY OF SOCIAL AND POLITICS UNIVERSITY OF TULUNGAGUNG. Jurnal BONOROWO, 1(1), 16-29. https://doi.org/10.36563/bonorowo.v1i1.7