PERAN BHABINKAMTIBMAS UNTUK MEWUJUDKAN TERPELIHARANYA KAMTIBMAS
BAMBANG SLAMET EKO S.

UNIVERSITAS TULUNGAGUNG
Abstract views:
28
,
PDF downloads:
15
Abstract
Abstraksi
Kejahatan merupakan salah satu bentuk gangguan terhadap masyarakat biarpun masih banyak gangguan yang terdapat dalam keamanan yang ada di masyarakat seperti kesenjangan social merupakan salah satu sebab adanya gangguan yang ada di masyarakat oleh karena itu harus adanya bentuk untuk mencegahnya. Dalam pencegahan terhadap gangguan yang ada di masyarakat diperlukan Kerjasama antara apparat penegang hukum dalam hal ini polisi dengan masyarakat setempat, hal ini untuk menjaga di sekitar lingkungan akan lebih baik di lakukan oleh masyarakat itu sendiri seperti adanya polisi masyarakat sedangkan polisi yang terdapat di masyarakat sebagai bhabinkabtibmas hanya dalam pembinaan. Pelaksanaan Program Polri dengan mengoptimalisasi peran Bhabinkamtibmas untuk mewujudkan Polmas guna meningkatkan partisipasi masyarakatdalam rangka terpeliharanya Kamtibmasbelum maksimal dilaksanakan mengingat keterbatasan jumlah anggota dan cara berfikir (mind set) serta bersikap (culture set) baik anggota Polri maupun masyarakat masih belum meahami dan mengerti arti pentingnya perubahan. Program ini juga merupakan upaya Polres Tulungagung untuk mewujudkan masyarakat dan terbentuknya lagi karakter masyarakat yang santun, tepo seliro saling menghormati / berbudi pekerti, yang dapat memberikan sumbang sih sebagai warga negara Indonesia sebagai warga negara yang berpancasilais untuk menjadikan target pencapaian sasaran strategis Polri. Peran yang diharapkan adalah perilaku yang memenuhi harapan masyarakat, mengikuti norma-norma yang berlaku, dapat mewujudkan perilaku yang menjadi panutan dalam pelaksanaan tugas, mendapatkan penilaian hasil kinerja sesuai dengan yang telah ditetapkan dan bersedia menerima sanksi apabila ada tindakan dan perbuatan yang melukai hati masyarakat
Kata Kunci : Bhabinkabtibmas, Terpelihara dan Kamtibmas
THE ROLE OF BHABINKAMTIBMAS TO REALIZE
MAINTENANCE OF KAMTIBMAS
Abstract Crime is a form of disturbance to society, even though there are still many disturbances in the security that exist in society such as social inequality is one of the causes of disturbances in society, therefore there must be a form to prevent it. In preventing disturbances in the community, cooperation between law enforcement officials in this case the police and the local community is needed, this is to protect the environment it will be better to be done by the community itself such as the community police while the police in the community as bhabinkabtibmas only under construction. The implementation of the National Police Program by optimizing the role of Bhabinkamtibmas to realize community police in order to increase community participation in the context of maintaining Kamtibmas has not been maximally implemented considering the limited number of members and the way of thinking (mind set) and attitude (culture set) both members of the Police and the community still do not understand and understand the importance of change. This program is also an effort by the Tulungagung Police to create a society and re-establish the character of a polite community, mutual respect / good character, who can contribute as Indonesian citizens as citizens who are Pancasila citizens to make targets for achieving the strategic goals of the Police. The expected role is behavior that meets community expectations, follows applicable norms, can manifest behavior that is a role model in carrying out tasks, gets an assessment of performance results in accordance with what has been determined and is willing to accept sanctions if there are actions and actions that hurt the community.
Keywords: Bhabinkabtibmas, Maintained and Kamtibmas
Downloads
Download data is not yet available.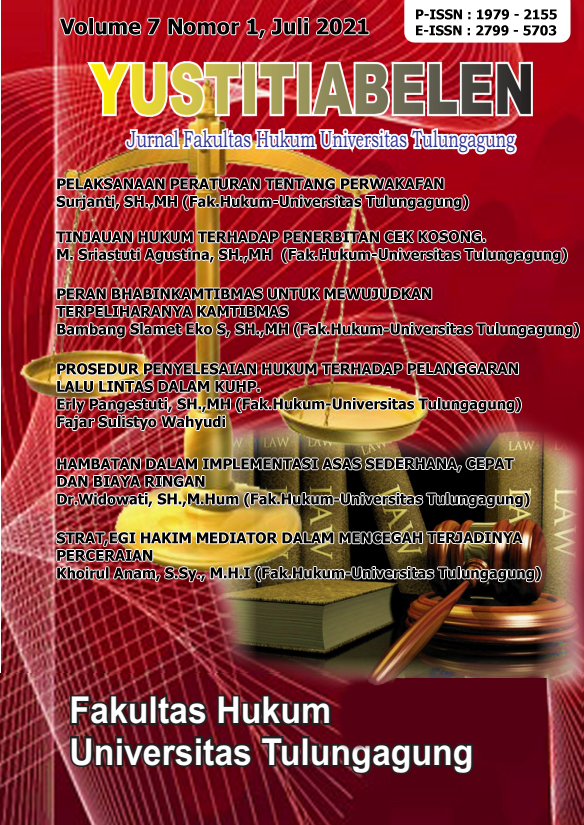 How to Cite
BAMBANG SLAMET EKO S. (2021). PERAN BHABINKAMTIBMAS UNTUK MEWUJUDKAN TERPELIHARANYA KAMTIBMAS. Jurnal YUSTITIABELEN, 7(1), 51-71. https://doi.org/10.36563/yustitiabelen.v7i1.320