ANALISIS USAHA PEMBENIHAN IKAN GURAMI
Bambang Tri Kurnianto

Universitas Tulungagung
Abstract views:
806
,
PDF downloads:
372
Abstract
ABSTRAK
Usaha ikan gurami sangat profitabel karena dapat dibudidaya mulai dari telur di sarang, bibit yang memiliki ukuran kecil atau besar hingga menjadi induk, atau sebagai ikan konsumsi. Ikan gurami masih sangat diminati dengan berbagai ukuran sangat ramai dipasaran. Para konsumen berebut benih hingga keluar kota dengan ukuran yang diinginkan tidak mudah, yang dimana permintaan dari dalam kotapun belum bisa terpenuhi secara keseluruhan. Tujuan dari penelitian ini yaitu untuk mengidentifikasi biaya yang digunakan dalam berproduksi mengenai budidaya ikan gurami serta mengidentifikasi pendapatan dari hasil budidaya ikan gurami dengan menganalisis apakah usaha pembenihan ikan gurami tersebut laba/rugi. Lokasi penelitian dilakukan dengan cara sengaja (purpossive) di Desa Mirigambar Kecamatan Sumbergempol Kabupaten Tulungagung. Sampel penelitian adalah petani pembenihan ikan gurami dari Desa Mirigambar, Tulungagung. Peneliti dalam penelitian ini menggunakan metode deskriptif kuantitatif dan menggunakan teknik pengambilan data, yang mencakup data primer dan sekunder. Peneliti menggunakan analisis pengujian revenue cost (R/C) ratio yang dimana digunakan untuk mengidentifikasi pendapatan dari budidaya ikan gurami. Adapun hasil pada penelitian ini adalah dimana tingkat pendapatan bersih yang diterima per paket benih ikan gurami yaitu sebesar Rp 2.292.466,67 dengan pengujian revenue cost (R/C) ratio sebesar 1,68 dimana usahatani pembenihan ikan gurami tergolong menguntungkan bagi masyarakat menengah dan layak untuk dikembangkan khususnya di daerah dilakukannya penelitian.
Kata Kunci : pembenihan, biaya produksi, pendapatan, ikan gurami
ABSTRACK
The gourami business is very profitable because it can be cultivated from eggs in nests, seeds that have small or large sizes to become broodstock, or as fish for consumption. Gouramy fish is still in great demand with various sizes very crowded in the market. Consumers fighting for seeds to get out of town with the desired size is not easy, which is where the demand from within the city can't be fulfilled as a whole. The purpose of this study is to identify the costs used in the production of gouramy cultivation and to identify the income from gouramy cultivation by analyzing whether the gouramy hatchery business is profit/loss. The location of the research was carried out purposively in Miri Gambar Village, Sumbergempol District, Tulungagung Regency. The research sample was carp hatchery farmers from Miri Gambar Village, Tulungagung. Researchers in this study used quantitative descriptive methods and used data collection techniques, which included primary and secondary data. The researcher used an analysis of revenue cost (R/C) ratio testing which was used to identify income from gouramy cultivation. The results in this study are where the level of net income received per package of gouramy seeds is Rp. 2,292,466.67 with a revenue cost (R/C) ratio of 1.68 where the gouramy hatchery farming is classified as profitable for middle and middle class people. feasible to be developed, especially in the area of ​​research.
Keywords: hatchery, production costs, income, gouramy
Downloads
Download data is not yet available.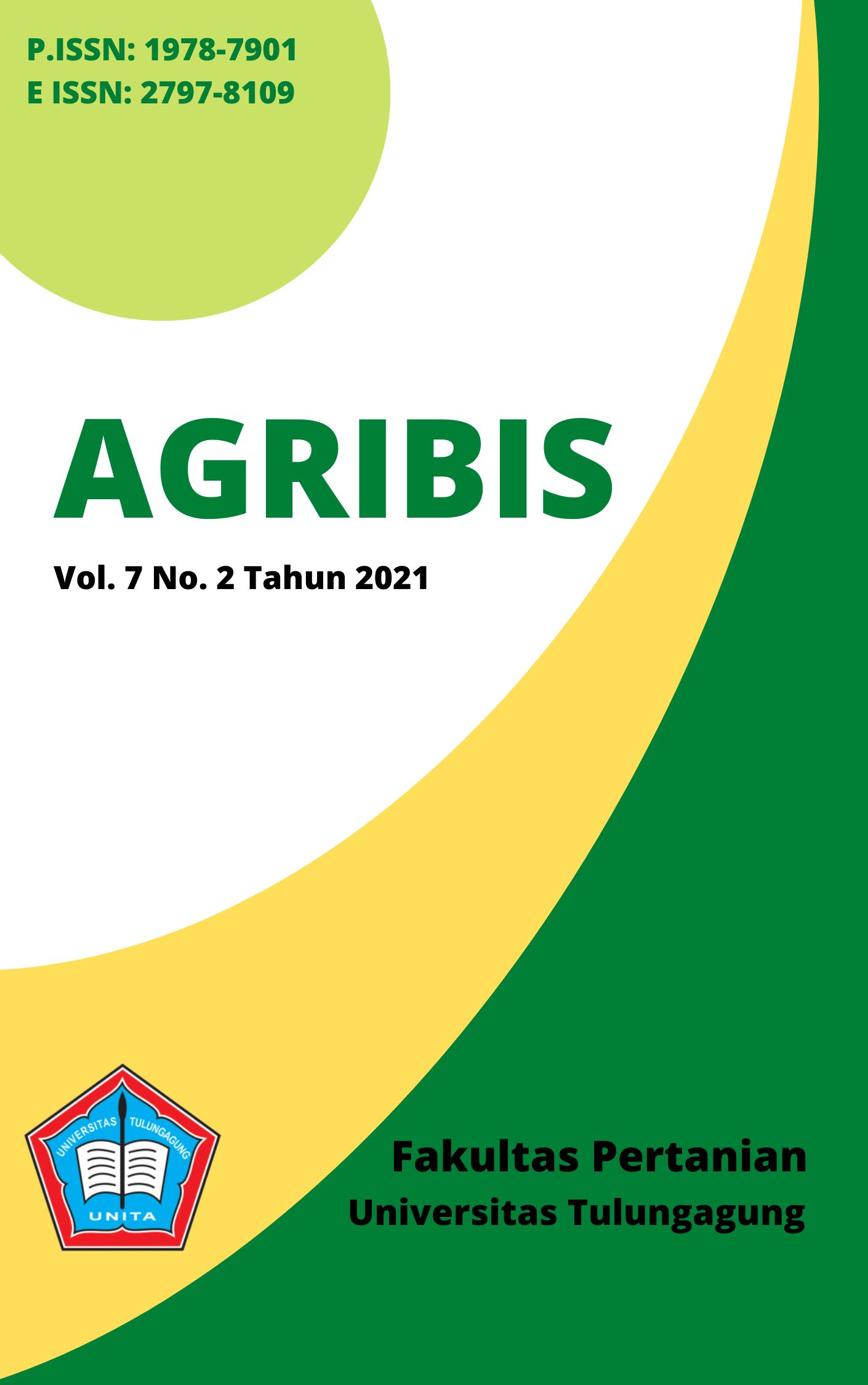 How to Cite
Bambang Tri Kurnianto. (2021). ANALISIS USAHA PEMBENIHAN IKAN GURAMI . Jurnal AGRIBIS, 7(2), 13-18. https://doi.org/10.36563/agribis.v7i2.393