HUBUNGAN PENGETAHUAN TENTANG KANKER PAYUDARA DENGAN SIKAP WANITA USIA 19-45 TAHUN TERHADAP PEMERIKSAAN PAYUDARA SENDIRI (SADARI) DI DESA SIDEM KECAMATAN GONDANG KABUPATEN TULUNGAGUNG
Ernik Rustiana Ernik

Universitas Tulungagung
Abstract views:
132
,
pdf downloads:
57
Abstract
ABSTRAK
Penderita kanker payudara sering mengeluh tidak merasakan tanda gejala permulaan, akibatnya mayoritas pasien melakukan pengobatan pada stadium lanjut. Factor inilah yang menyebabkan angka kematian pada kangker masih cukup tinggi. Tujuan penelitian mengetahui hubungan pengetahuan tentang kanker payudara dengan sikap wanita usia 19-45 tahun terhadap SADARI.
Penelitian dilaksanakan pada tanggal 2 Mei s/d 30 Juni 2017 . Pengetahuan sebagai variabel independen dan sikap sebagai variabel dependen. Desain analitik korelasi dengan pendekatan cross sectional. Populasi perempuan umur 19-45 tahun sejumlah 489 responden. Sampel 220 responden dengan teknik simple random sampling. Instrumen dengan kuesioner , diprosentase, analisis data menggunakan uji statistik chi-square dengan α=0.05
Hasil penelitian diperoleh sebagian besar dari responden sebanyak 132 responden (60%) berpengetahuan baik tentang kanker payudara, sedangkan dari perhitungan pada skor T diperoleh sebagian besar dari responden yaitu 144 responden (65.45%) bersikap positif terhadap SADARI. Pada uji dengan statistik chi -square didapat p-value 0.001 sehingga Ho ditolak berarti ada hubungan antara pengetahuan tentang kanker payudara dengan sikap wanita terhadap SADARI.
Pengetahuan yang dimiliki responden baik disebabkan pendidikan responden yaitu SMA sehingga mudah menerima dan memahami informasi. Pengetahuan yang baik didukung dengan social budaya yang maju membentuk sikap positif terhadap SADARI.
ABSTRACT
Breast cancer sufferers often complain that they don't feel any early signs or symptoms, as a result, the majority of patients undergo treatment at an advanced stage. This factor causes the mortality rate in cancer is still quite high. The research objective was to determine the relationship between knowledge about breast cancer and the attitudes of women aged 19-45 years towards SADARI.
The research was conducted from 2 May to 30 June 2017. Knowledge as the independent variable and attitude as the dependent variable. The design used correlation analytic with cross sectional approach. The population in the study of women aged 19-45 years was 489 respondents. Sample 220 respondents using simple random sampling technique based on inclusion criteria. The research instrument used a questionnaire and then percentage, data analysis used the chi-square statistical test with α = 0.05
The results obtained by most of the respondents as many as 132 respondents (60%) have good knowledge about breast cancer, while the calculation on the T score obtained most of the respondents, namely 144 respondents (65.45%) have a positive attitude towards BSE. In the test with the chi-square statistic, the p-value is 0.001 so that Ho is rejected, meaning that SADARI.
The respondent's knowledge is good because the respondent's education is high school so it is easy to receive and understand information. Good knowledge is supported by advanced socio-culture to form a positive attitude towards SADARI.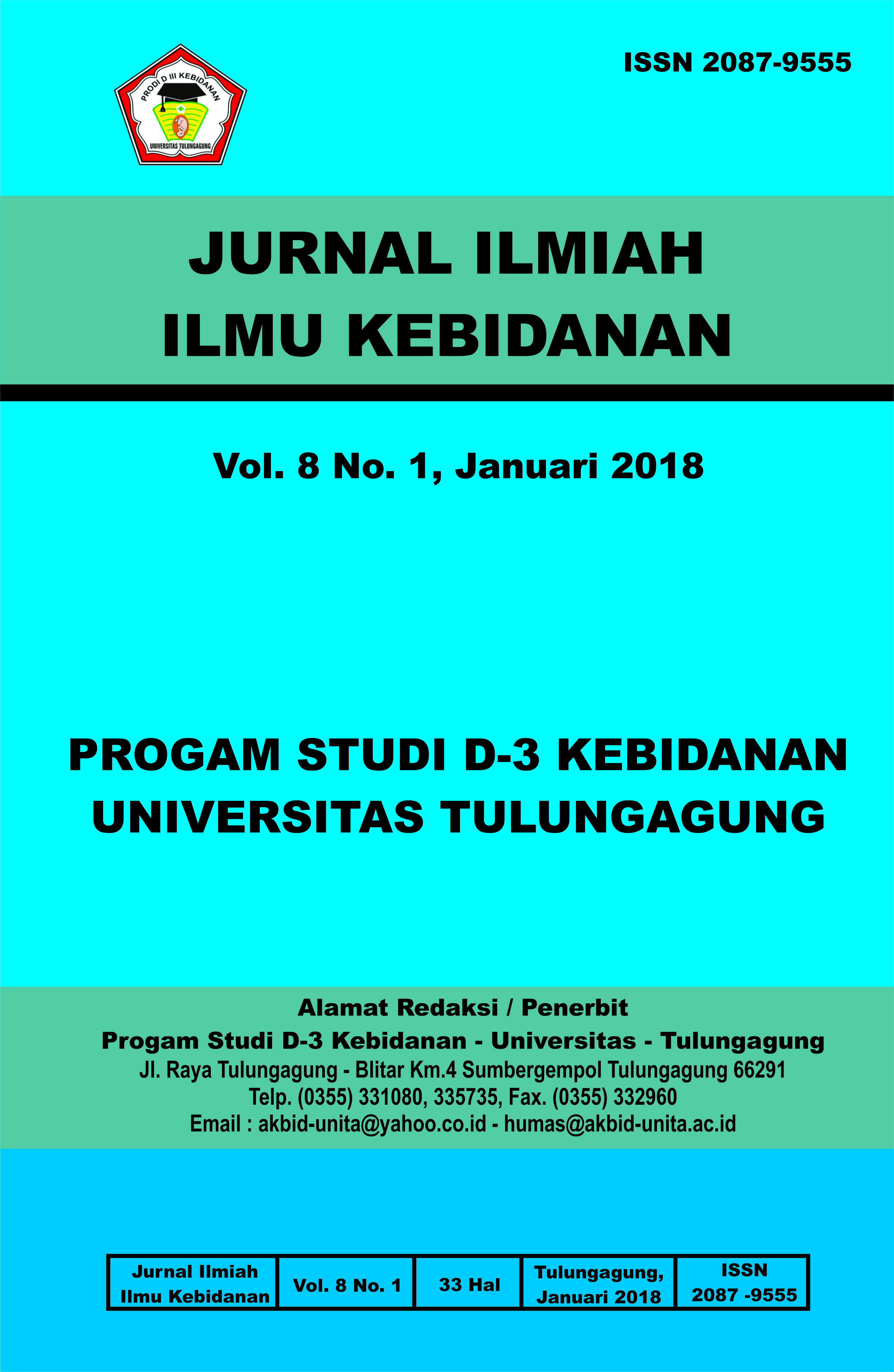 How to Cite
Ernik, E. R. (2018). HUBUNGAN PENGETAHUAN TENTANG KANKER PAYUDARA DENGAN SIKAP WANITA USIA 19-45 TAHUN TERHADAP PEMERIKSAAN PAYUDARA SENDIRI (SADARI) DI DESA SIDEM KECAMATAN GONDANG KABUPATEN TULUNGAGUNG. Kebidanan, 8(1), 1-6. Retrieved from https://journal.unita.ac.id/index.php/bidan/article/view/232