SIKAP IBU HAMIL TENTANG KEHAMILAN RESIKO TINGGI DI BPM JOHANA WIDIJATI DESA SIDOREJO KECAMATAN KAUMAN KABUPATEN TULUNGAGUNG
Widya Lusi Arisona Lusi

Universitas Tulungagung
Abstract views:
1417
,
pdf downloads:
2160
Keywords:
SIKAP, IBU HAMIL, KEHAMILAN RESIKO TINGGI
Abstract
ABSTRAK
Kehamilan adalah suatu proses tumbuh kembang janin dalam kandungan hingga kelahirannya. Kehamilan risiko tinggi yaitu suatu kehamilan dimana keadaannya bisa mengancam keselamatan ibu maupun janinnya atau keduanya.tujuan penelitian ini adalah untuk mengetahui sikap ibu hamil tentang kehamilan resiko tinggi.
Penelitian dilaksanakan pada tanggal 1 Juni – 31 Juli 2018. Jenis penelitian observasional, desain penelitian deskriptif. Populasi penelitan semua ibu hamil yang memeriksakan kehamilannya di BPM Johana Widijati sejumlah 30 responden dengan teknik accidental sampling.
Hasil : dari total 30 responden sebagian besar dari responden bersikap positif tentang kehamilan resiko tinggi yaitu sebanyak 18 responden (60%).
Sikap responden yang positif tersebut dilatar belakangi tingkat umur yang produktif (16-35 tahun), faktor informasi yang telah didapatkan terutama dari tenaga kesehatan.
ABSTRACT
Pregnancy is a process of fetal growth and development in the womb until its birth. A high-risk pregnancy is a pregnancy where the condition can threaten the safety of the mother or fetus or both. The aim of this study was to determine the attitudes of pregnant women about high-risk pregnancies. The research was conducted on June 1 - July 31 2018. This type of research is observational, descriptive research design. The research population of all pregnant women who checked their pregnancy at BPM Johana Widijati was 30 respondents using accidental sampling technique. Results: from a total of 30 respondents, most of the respondents were positive about high-risk pregnancy as many as 18 respondents (60%). The positive attitude of the respondents is based on the level of productive age (16-35 years), the information factor that has been obtained is mainly from health workers.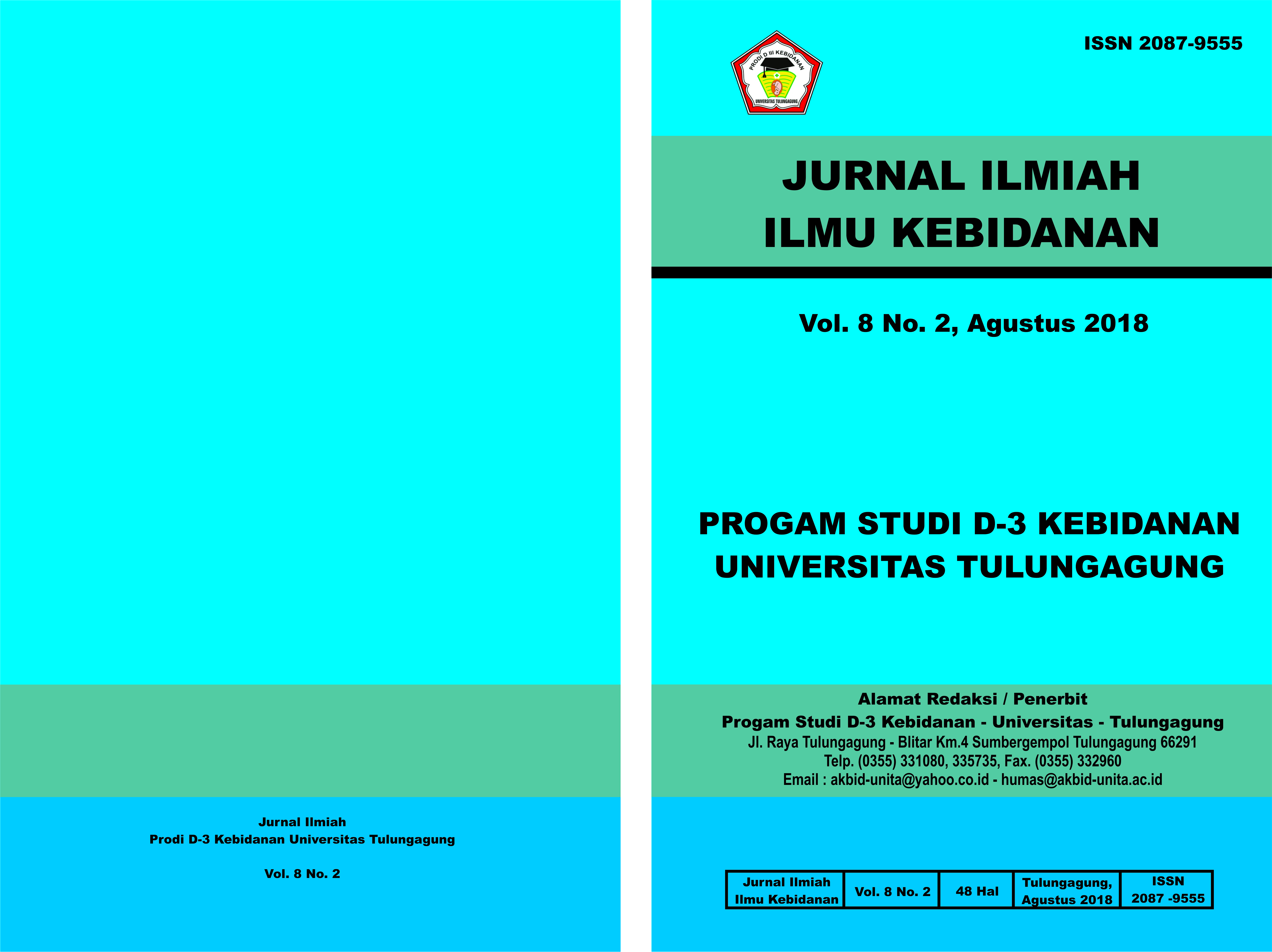 How to Cite
Lusi, W. L. A. (2018). SIKAP IBU HAMIL TENTANG KEHAMILAN RESIKO TINGGI DI BPM JOHANA WIDIJATI DESA SIDOREJO KECAMATAN KAUMAN KABUPATEN TULUNGAGUNG. Kebidanan, 8(2), 1-7. Retrieved from https://journal.unita.ac.id/index.php/bidan/article/view/240