ANALISIS RIWAYAT TABLET TAMBAH DARAH PADA IBU HAMIL DENGAN ANEMIA DI INDONESIA ( DATA RISKESDAS 2018)
SITI MARYAM

Universitas Tulungagung
Abstract views:
591
,
pdf downloads:
2038
Keywords:
Riwayat Tablet Tambah Darah, DITERIMA, DIKONSUMSI, ANEMIA
Abstract
ABSTRAK
Anemia merupakan faktor penyebab kematian ibu secara tidak langsug. Di Indonesia Kematian ibu masih cukup tinggi, anemia pada ibu hamil dapat berdampak pada abortus atau lahir premature, hipoksia dan kematian janin dalam kandungan dan juga penyebab terjadinya perdarahan ibu bersalin. Tujuan Mengetahui Riwayat TTD ibu hamil dengan anemia.
Penelitian data skunder RISKESDAS 2018, survey Nasional desain Cross-sectional dan nonintervensi. Populasi seluruh RT yang diIndonesia. Sampel Susenas pada bulan Maret 2018 sebanyak 70.687 dari 36 Propinsi. Pengambilan data tanggal 13 s/d 18 Mei 2020.
Hampir setengahnya TTD yang diterima ≥ 90 tablet yang di terima ibu hamil yaitu 38% dan tidak anemia, hampir setengahnya < 90 dalam kriteria tidak normal yaitu 40% dan mengalami anemia dengan ρ: 0,001 artinya ada hubungan antara riwayat jumlah TTD yang di terima dan dikonsumsi dengan terjadinya anemia.
Ibu hamil sudah memenuhi kebutuhan tablet tambah darah secara baik dan sesuai peraturan mentri kesehatan dan harapannya TTD yang di dapatkan secara terpenuhi dapat mencegah terjadinya anemia pada kehamilan dan dapat melahirkan secara lancar dan bayi lahir sehat. ibu hamil yang tidak meminum TTD secara baik atau tidak menghabiskan tablet tersebut berdampak terjadinya anemia ibu hamil.
ABSTRACT
Anemia is a factor that can indirectly cause death in mothers. Maternal mortality in Indonesia is still quite high, anemia in pregnant women can have an impact on abortion or premature birth, hypoxia and fetal death in the womb and also the cause of bleeding in maternity. Research Objectives Knowing the History of Tablets Add blood in pregnant women with anemia in Indonesia (Riskesdas 2018 Data).
This research uses RISKESDAS secondary data in 2018, which is a national scale survey with cross-sectional and non-intervention villages. Population of all households in Indonesia. The sample uses the Susenas sample framework in March 2018 with a sample of 70,687 from 36 Provinces in Indonesia. Researchers took data from 13 to 18 May 2020.
Nearly half the TTD received ≥ 90 tablets received by pregnant women was 38% and did not have anemia, almost half were <90 or within the normal criteria of 40% and had anemia with ρ: 0.001 meaning there was a relationship between the history of the number of TTDs received receive and be consumed with anemia.
Pregnant women have fulfilled the need for added blood tablets properly and in accordance with the regulations of the minister of health and the hope is that the added blood tablets that are met can prevent anemia in pregnancy and can give birth smoothly to mothers and babies born healthy. pregnant women who do not take TTD properly or do not spend the tablet so that the impact on anemia in pregnant women.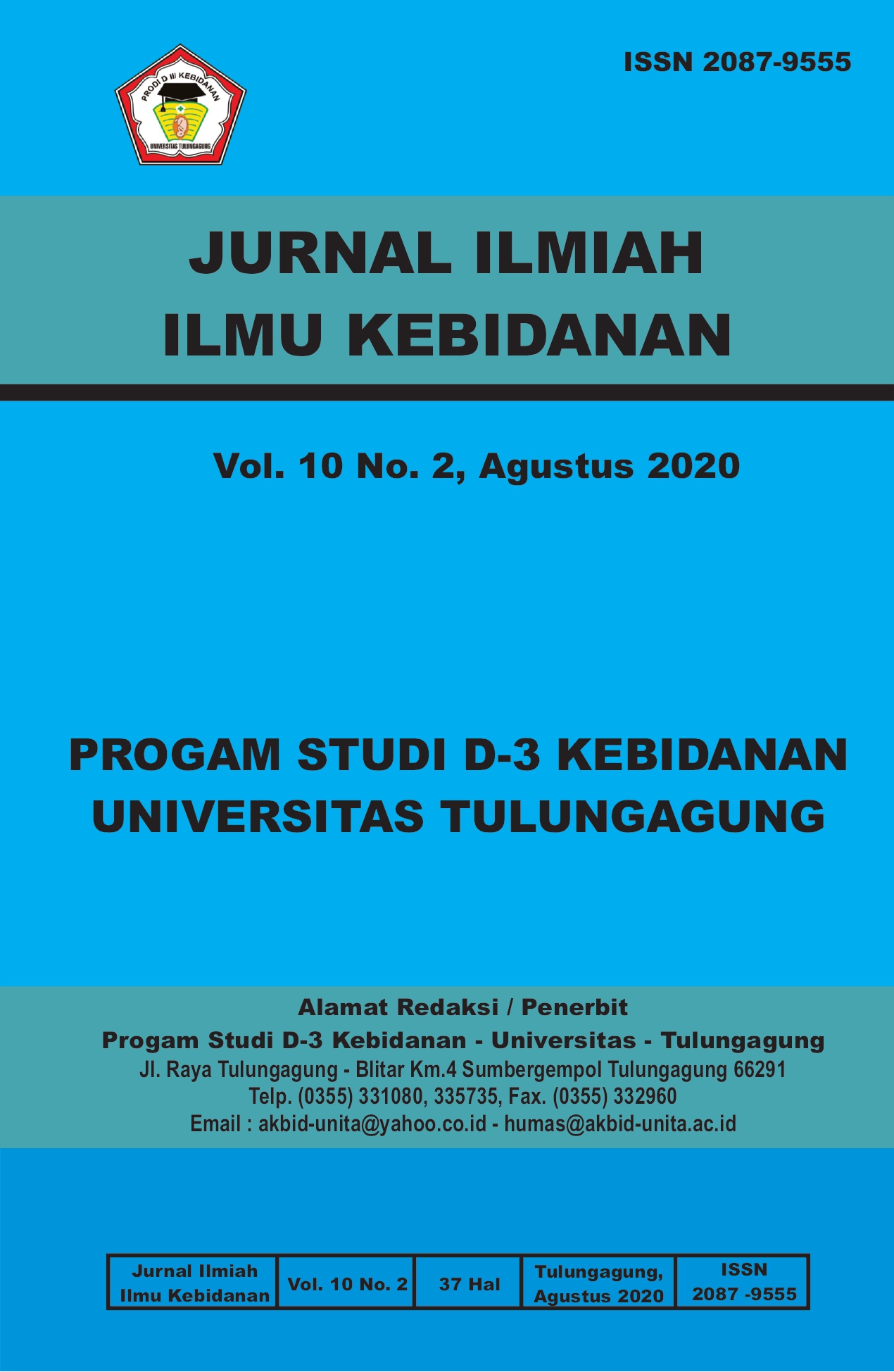 How to Cite
SITI MARYAM. (2020). ANALISIS RIWAYAT TABLET TAMBAH DARAH PADA IBU HAMIL DENGAN ANEMIA DI INDONESIA ( DATA RISKESDAS 2018). Kebidanan, 10(2), 1-8. Retrieved from https://journal.unita.ac.id/index.php/bidan/article/view/404