Pemeriksaan Tekanan Darah Dan Konseling Tentang Hipertensi dan Komplikasinya Pada Lansia Di Desa Kromasan Kabupaten Tulungagung
Siti Suciati

Universitas Tulungagung

Ernik Rustiana

Universitas Tulungagung
Abstract views:
1339
,
pdf downloads:
852
Keywords:
Hipertensi, Lansia, Pengabmas
Abstract
Abstract
The main problem in various countries related to health is heart disease and blood vessels. Hypnosis is one of the first triggers in the world annually. The number of people with hypertension continues to increase every year. It is estimated that in 2025 there will be 1.5 billion people who suffer from hypertension, and it is predicted that 10.44 million people die annually due to hypertension and its complications. Management of hypertension can be done from the knowledge of the elderly about hypertension and hypertension diet regulation. Activities that have been carried out include providing health education related to hypertension, blood pressure checks, being taught progressive muscle relaxation techniques, and being given an understanding of making cucumber juice and starfruit to control hypertension. The purpose of this activity is expected to be an increase in awareness, knowledge, and behavior of the elderly in a healthy life regarding hypertension so that the elderly realizes the importance of maintaining blood pressure experienced at this time. Community service activities in Kromasan Village, NgunutTulungagungSubdistrict were carried out in September 2019. Of the 110 elderly people present, 41 elderly people were found with blood pressure above normal (140-90 mmHg). It can be said that the prevalence of hypertension is only 37.3%, because other elderly people have been controlled by using anti-hypertensive drugs given from the Ngunut Health Center.
Abstrak
Masalah utama di berbagai negara yang berkaitan dengan kesehatan adalah penyakit jantung dan pembuluh darah. Hipetensi merupakan salah satu pemicu pertama di dunia per tahunya. Angka penderita hipertensi terus mengalami peningkatan setiap tahunya. Diperkirakan pada tahun 2025 akan ada 1,5 Miliar orang yang menderita hipertensi, dan diprediksi per tahunnya 10,44 juta orang meninggal yang disebabkan karena hipertensi dan komplikasinya. Manajemen hipertensi dapat dilakukan dari pengetahuan lansia mengenai hipertensi serta pengaturan diet hipertensi. Kegiatan yang telah dilakukan yaitu memberikan pendidikan kesehatan terkait penyakit hipertensi, pemeriksaan tekanan darah, tehnik relaksasi otot progresif, dan diberi pemahaman tentang pembuatan jus timun dan belimbing untuk mengontrol hipertensi. Tujuan dari kegiatan ini diharapakan ada peningkatan kesadaran, pengetahuan, maupun perilaku lansia sehingga menyadari pentingnya menjaga tekanan darah yang dialami saat ini. Kegiatan dilaksanakan pada bulan September 2019. Dari110 lansia yang hadir, ditemukan 41orang lansia dengan tekanan darah diatas normal (140 90mmHg). Hal ini dapat dikatakan prevalensi yang memiliki hipertensi hanya 37,3%, dikarenakan lansia lainnya telah terkontrol dengan menggunakan obat anti hipertensi yang diberikan dari Puskesmas Ngunut.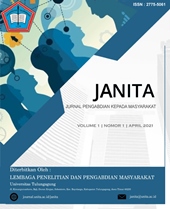 How to Cite
Siti Suciati, & Ernik Rustiana. (2021). Pemeriksaan Tekanan Darah Dan Konseling Tentang Hipertensi dan Komplikasinya Pada Lansia Di Desa Kromasan Kabupaten Tulungagung. JANITA : JURNAL PENGABDIAN KEPADA MASYARAKAT , 1(1), 31-36. https://doi.org/10.36563/pengabdian.v1i1.283