Akuntabilitas Dana Desa Dalam Mewujudkan Good Financial Governance of Village
Wenni Wahyuandari

Fakultas Ekonomi Universitas Tulungagung
Abstract views:
232
,
PDF downloads:
667
Abstract
ABSTRAK
Dana desa yang diterima desa serta pengengelolaan keuangannya merupakan tanggung jawab yang besar. Semua dasar hokum ,tata cara, serta regulasinya sudah sangat lengkap dan jelas tertuang dalam undang-undang  peraturan desa. Dalam pelaksanaan program yang dibiayai oleh dana desa  diatur jelas dalam peraturan menteri keuangan . Dalam pelaksanaan harus  menerapkan prinsip akuntabilitas dan transparansi dan tata kelola keuangan yang baik. Semua kegiatan dalam pemerintahan harus dipertanggungjawabkan, mengarah terwujudnya pemerintahan desa yang baik, bertanggungjawab dan disiplin anggaran (goodfinancial  governance).
Penelitian ini bertujuan menjelaskan upaya mengelola Dana Desa dengan mengedepankan tata kelola keuangan yang baik di pemerintahan desa (good financial governance of village), terutama pada situasi pandemik yang membutuhkan refocusing anggaran, keputusan keuangan yang cepat dan tepat, tetap memegang prinsip-prinsip pengelolaan keuangan dan tata kelola keuangan desa yang baik.
Hasil analisis data diperoleh hasil bahwa pemerintah Desa Desa Sukowiyono Kecamatan Karangrejo Kabupaten Tulungagung telah melaksanakan pengelolaan Dana Desa memenuhi prinsip akuntabilitas, transparansi serta pelaksanaan prinsip-prinsip tata kelola keuangan yang baik di pemerintahan desa (good financial governance of village).
Kata Kunci     :  Dana Desa, Akuntabilitas, Transparansi, Good Financial Governance of Village
 Abstraction 
Village funds received by the village and financial management are a big responsibility. All the legal bases, procedures, and regulations are very complete and clearly stated in the village regulation law. The implementation of programs financed by village funds is clearly regulated in a regulation of the minister of finance. In implementation, the principles of accountability and transparency must be applied. And also good financial governance. All activities in government must be accounted for, leading to the realization of good village governance, responsibility and budget discipline (good financial governance).
This study aims to explain the efforts to manage the Village Fund by prioritizing good financial governance of the village, especially in a pandemic situation that requires refocusing the budget, fast and precise financial decisions, still adhering to the principles of financial management and good village financial governance.
The results of the data analysis show that the village government of Sukowiyono Village, Karangrejo District, Tulungagung Regency has implemented Village Fund management that fulfills the principles of accountability, transparency and the implementation of the principles of good financial governance in village government (good financial governance of village).
Keywords: Village Fund, Accountability, Transparency, Good Financial Governance of Village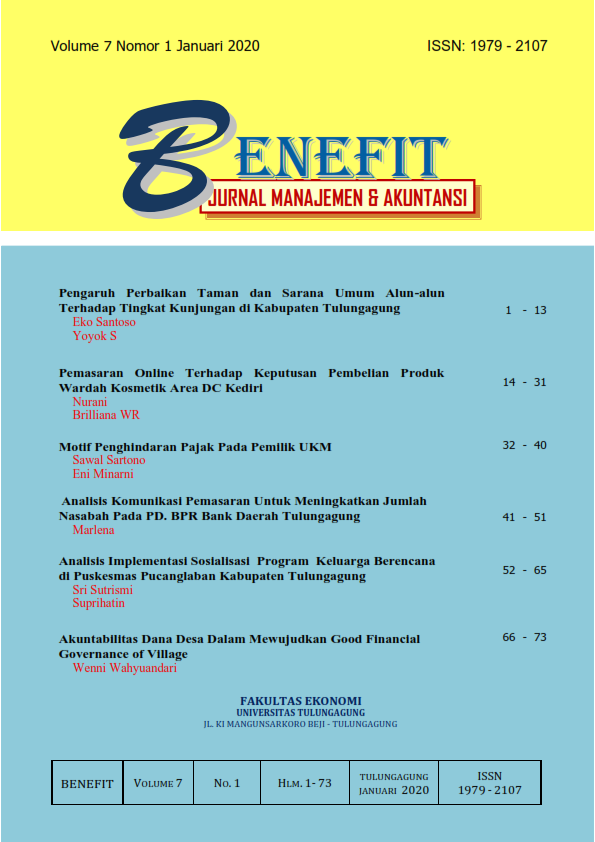 How to Cite
Wenni Wahyuandari. (2020). Akuntabilitas Dana Desa Dalam Mewujudkan Good Financial Governance of Village. BENEFIT , 7(1), 66-73. Retrieved from https://journal.unita.ac.id/index.php/benefit/article/view/273