Analisis Perencanaan Keuangan Desa Besuki Kecamatan Besuki Kabupaten Tulungagung
Rudi Rusiyanto

Fakultas Ekonomi Universitas Tulungagung

Pantung Mega T.

Fakultas Ekonomi Universitas Tulungagung
Abstract views:
15
,
PDF downloads:
38
Abstract
Abstraksi
 Acuan pengelolaan keuangan desa Besuki tahun 2019 mengacu pada Permendagri No.20/2018. Berkaitan dengan hal tersebut desa harus menyesuaikan laporan yang disajikan dengan aturan permendagri yang berlaku tersebut.  Penelitian ini dengan tujuan untuk mengetahui bagaimana analisis perencanaan keuangan desa  Besuki di Tulungagung.
Penelitian kualitatif dilakukan dengan pendekatan deskriptif dalam penyajiannya. Proses analisis data dilakukan dengan cara proses reduksi, penyajian data dilanjutkan ditarik kesimpulannya.
Hasil dari penelitian yang dilakukan sebagai berikut:
Desa Besuki telah mendapatkan dana desa di tahun 2018 sebesar Rp 769.753.000,00 dan tahun 2019 sebesar Rp 832.986.000,00.
Pengelolaan keuangan Desa Besuki telah dilaksanakan sesuai aturan sebagaimana tertuang dalam Permendagri No.20/2018 untuk pelaksanaan anggaran tahun 2019, dalam hal perencanaan; pelaksanaan; penatausahaan; pelaporan; maupun pertanggungjawaban
Penggunaan dana sesuai aturan pada klasifikasi atas belanja desa yaitu penggunaan pada kegiatan pemerintahan, kegiatan pembinaan kemasyarakatan, kegiatan pemberdayaan masyarakat dan kegiatan penanggulangan bencana desa;
Dalam pelaksanaan pengelolaan keuangan juga telah menggunakan aplikasi siskeudes sesuai amanat dari permendagri ini.
Masih ada beberapa hambatan dalam pengelolaan keuangan desa diantaranya kemampuan sumberdaya manusia dalam menginterpretasi peraturan yang kurang dan komunikasi antar tim PPKD yang kurang maksimal serta sifat pasif masyarakat sehingga kurang bisa mengawasi proses pengelolaan keuangan ini.
Kata kunci:  Analisis, Keuangan Desa, Pengelolaan.
 Abstraction
The reference for the financial management of Besuki village in 2019 refers to Permendagri No.20/2018. In this regard, the village must adjust the report presented to the applicable Permendagri regulations. This study aims to determine how the analysis of financial planning in Besuki village in Tulungagung.
Qualitative research is conducted with a descriptive approach in its presentation. The data analysis process was carried out by means of the reduction process, the presentation of the data continued to draw conclusions.
The results of the research carried out are as follows:
Besuki Village has received village funds in 2018 amounting to IDR 769,753,000.00 and in 2019 IDR 832,986,000.00.
1) The financial management of Besuki Village has been implemented according to the rules as stipulated in Permendagri No.20/2018 for the implementation of the 2019 budget, in terms of planning; implementation; administration; reporting; and accountability.
2) The use of funds is in accordance with the rules for the classification of village expenditure, namely the use of government activities, community development activities, community empowerment activities and village disaster management activities;
3) In the implementation of financial management, the siskeudes application has also been used according to the mandate of this Minister of Home Affairs.
4) There are still several obstacles in the management of village finances, including the ability of human resources to interpret the regulations that are lacking and communication between PPKD teams is not optimal and the passive nature of the community so that they are not able to supervise this financial management process.
Keywords: Analysis, Village Finance, Management.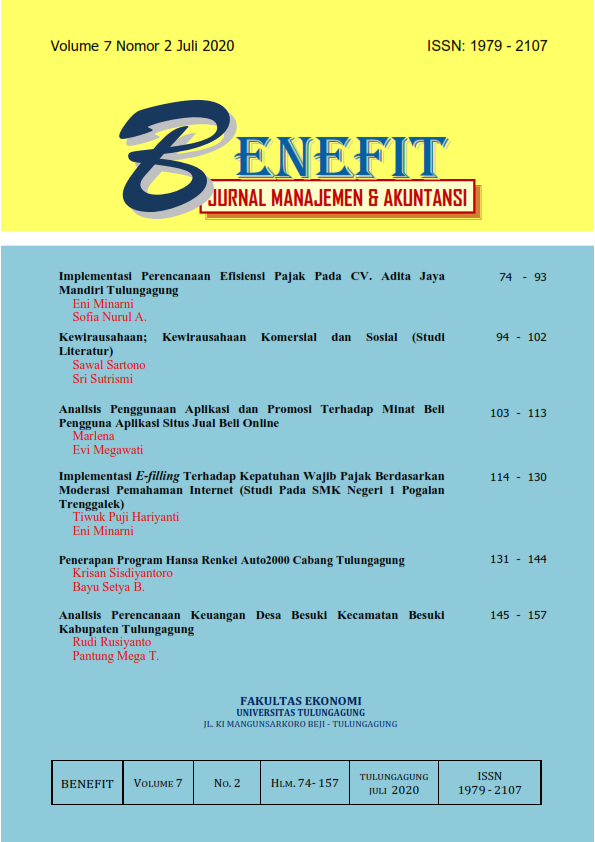 How to Cite
Rudi Rusiyanto, & Pantung Mega T. (2020). Analisis Perencanaan Keuangan Desa Besuki Kecamatan Besuki Kabupaten Tulungagung. Jurnal BENEFIT, 7(2), 145-157. Retrieved from https://journal.unita.ac.id/index.php/benefit/article/view/281