Strategi Membangun Minat Pemuda Terhadap Usaha Mikro Kecil Menengah (UMKM) di Desa Keboireng Kecamatan Besuki Kabupaten Tulungagung
Bondan Subagyo

Fakultas Ekonomi Universitas Tulungagung

Riska Ayu Nanda

Fakultas Ekonomi Universitas Tulungagung
Abstract views:
402
,
PDF downloads:
920
Abstract
Abstrak
Kurangnya pendampingan dari pihak terkait dan modal yang terbatas dalam memulai suatu usaha, menjadikan minat dan keinginan pemuda kurang tertarik terhadap usaha mikro kecil menengah (UMKM). Untuk mengetahui bagaimana peran pemuda terhadap UMKM di Desa Keboireng Kecamatan Besuki Kabupaten Tulungagung dan untuk mengetahui strategi dalam membangun minat dan keinginan pemuda terhadap usaha mikro kecil menengah (UMKM) penelitian ini dilakukan.
Merupakan penelitian deskriptif kualitatif dengan jumlah informan 3 (tiga) orang, diantaranya adalah ketua karang taruna yang mewakili dari pemuda, kepala desa, dan pelaku usaha UMKM yang ada di Desa Keboireng. Data dikumpulkan melalui wawancara, observasi dan data sekunder.
Riset menjelaskan bahwa berdasarkan analisis SWOT (Strenght, weakness, opportunity, threat) yaitu Desa Keboireng merupakan penghasil pisang terbanyak di Kecamatan Besuki, yang dimana lahan pertaniannya begitu luas mulai dari sawah, kebun, dan tanah kering lainnya. Maka dari itu, sebenarnya pemuda bisa memulai usaha kecil yaitu dengan berjualan pisang di sekitar jalan jalur lintas selatan (JLS) dengan bermodalkan timbangan dan juga buah pisang tersebut. Akan tetapi ada juga ancaman yang ditakutkan pemuda yaitu terkait kerugian, dimana terdapat produk sejenis yang dijual, hasil nelayan juga merupakan peluang besar bagi para pemuda bisa membentuk kelompok untuk mendirikan usaha kuliner, batok kelapa bahkan sabut kelapa bisa juga dimanfaatkan menjadi kerajinan tangan, seperti perahu mainan, asbak, gantungan kunci, sapu, dan lain sebagainya. Sebenarnya masih banyak lagi hasil pertanian dalam Desa sendiri yang bisa bisa dimanfaatkan dengan tidak harus mengeluarkan biaya yang besar, hanya saja kesadaran dari pemuda itu sendiri yang belum bisa memadai, maka dari itu pendampingan sangat-sangat dibutuhkan dalam membangun minat para pemuda.
Kata Kunci : Strategi, Minat Pemuda, Usaha Mikro Kecil Menengah (UMKM)
Abstraction
Lack of assistance from related parties and limited capital in starting a business, make the interest and desire of youth less interested in micro, small and medium enterprises (MSMEs). To findpout how the role of youthytowards MSMEs in Keboireng Village, Besuki District, Tulungagung Regency and to find out strategies in building youth interest and desire for micro, small and medium enterprises (MSMEs), this study was conducted.
This is a qualitative descriptive study with 3 (three) informants, including the head of the youth organization representing youth, village heads, and MSME business actors in Keboireng Village. Datarcollectionutechniquesuthroughttprimaryudata (interviews and observations) andrsecondary.
Thettresults of the study explain that based on a SWOT (Strenght, Weakness, Opportunity, Threat) analysis, Keboireng Village is the largest producer of bananas in Besuki District, where the agricultural land is so wide ranging from rice fields, gardens, and other dry land. Therefore, youth can actually start a small business, namely by selling bananas around the South Latitude Road (JLS) with the capital of the scales and the bananas. However, there is also a threat that youths fear, namely related to losses, where there are similar products being sold, fishermen's products are also a great opportunity for young people to form groups to establish culinary businesses, coconut shells and even coconut fiber can also be used as handicrafts, such as boats. toys, ashtrays, key chains, brooms, and so on. Actually there are many more agricultural products in the village itself that can be used without having to spend a lot of money, it's just that the awareness of the youth themselves is not sufficient, therefore assistance is very, very needed in building the interest of the youth.
 Keywords: Strategy, Youth Interests, Micro, Small and Medium Enterprises (MSMEs).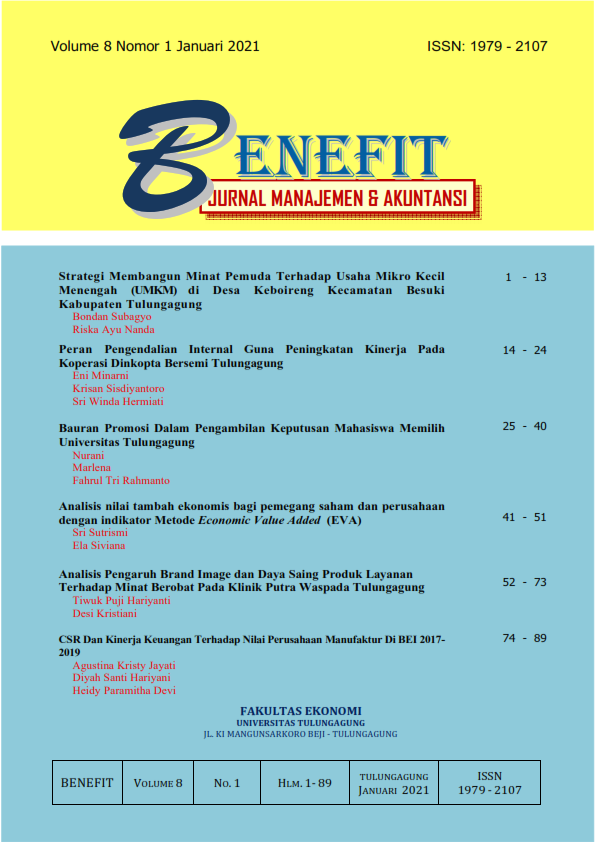 How to Cite
Subagyo, B., & Ayu Nanda, R. (2021). Strategi Membangun Minat Pemuda Terhadap Usaha Mikro Kecil Menengah (UMKM) di Desa Keboireng Kecamatan Besuki Kabupaten Tulungagung. BENEFIT , 8(1), 1-13. Retrieved from https://journal.unita.ac.id/index.php/benefit/article/view/379