Media Sosial Sebagai Sarana Promosi Efektif Dalam Peningkatan Penjualan Jesse Factory Tulungagung
Nurani Nurani

Fakultas Ekonomi Universitas Tulungagung

Desi Retno

Fakultas Ekonomi Universitas Tulungagung
Abstract views:
715
,
PDF downloads:
1406
Abstract
ABSTRAKSI
Bertumbuhnya jumlah konsumen internet secara khusus memikat sektor-sektor bisnis dalam menyebarluaskan hasil produk pada media tersebut. Perdagangan yang memanfaatkan taktik promosi dari internet terutama media sosial dinilai mampu memaksimalkan angka jual lebih luas. Melihat begitu banyaknya persaingan bisnis online shop di Tulungagung, maka perlu dianalisis strategi promosi yang efektif dan juga ingin melihat dampak dari dilakukannya promosi terhadap penjualan setelah adanya promosi pada Instagram, satu kanal dari media sosial. Tujuan dari penelitian ini adalah demi mengungkap seberapa besar dampak efektivitas penggunaan media sosial sebagai sarana promosi dan kaitannya dengan peningkatan bisnis di Jesse Factory Tulungagung yang merupakan satu dari banyaknya pelaksana bidang usaha online shop.
Metode yang diterapkan pada karya tulis ini adalah asosiatif kausal.
Sampel diambil dengan memanfaatkan non probability sampling secara purposive sampling. Sistem pengumpulan sumber data menggunakan   observasi, wawancara dan kuesioner. Variabel independen yang diteliti antaral lain communication, context, connection, dan collaboration. Metode analisis data dengan uji instrumen, asumsi klasik, dan hipotesis, analisis regresi berganda, serta koefisien determinasi.  
Kesimpulan yang ditarik dari karya tulis ini, didapatkan rumus Y = 0,333 + 0,023X1 + 0,437X2 + 0,371X3 + 0,440X4 + e. Dalam sisi parsial, pengaruh dari variabel context tidak berdampak secara relevan, sedangkan variabel connection, communication serta collaboration berdampak secara relevan dengan volume penjualan.  Akan tetapi, dalam segi simultan varianel independen, dampaknya terhadap variabel dependen ditunjukkan pada angka 42,673 serta R² sebanyak 64,2%.
Kata kunci: Media Sosial, Promosi Efektif, Peningkatan Penjualan
Abstraction
The increasing number of internet users has attracted various kinds of businesses to promote their products on the internet. Commerce by promotional strategies through internet motsly social media, can widely increase the sales. Seeing so many online shop business competition in Tulungagung, it is necessary to analyze effective promotional strategies and also want to see the impact of doing promotions on sales after promotions through social media Instagram. The motivation of the study was to determine how much influence the effectiveness when using social media as means of promotion to increase sales at Jesse Factory Tulungagung as one of the online shop business actors.
This research method uses causal associative research method. Sampling using non-probability sampling with purposive sampling technique. Data collection techniques using observation, interviews and questionnaires. The independent variables studied were context, communication, collaboration, and connection. The data analysis technique is instrument test, classical assumption test, multiple regression analysis, hypothesis testing, and coefficient of determination.
The results of this study obtained the equation Y = 0.333 + 0.023X1 + 0.437X2 + 0.371X3 + 0.440X4 + e. Partially, the context variable has no relevant effect, besides, communication, collaboration, and connection variables have a relevant effect on sales volume. However, simultaneously the independent variable has an influence on dependent variable with an F value of 42.673 and an R² value of 64.2%.
Keywords: Social Media, Effective Promotion, Sales Increase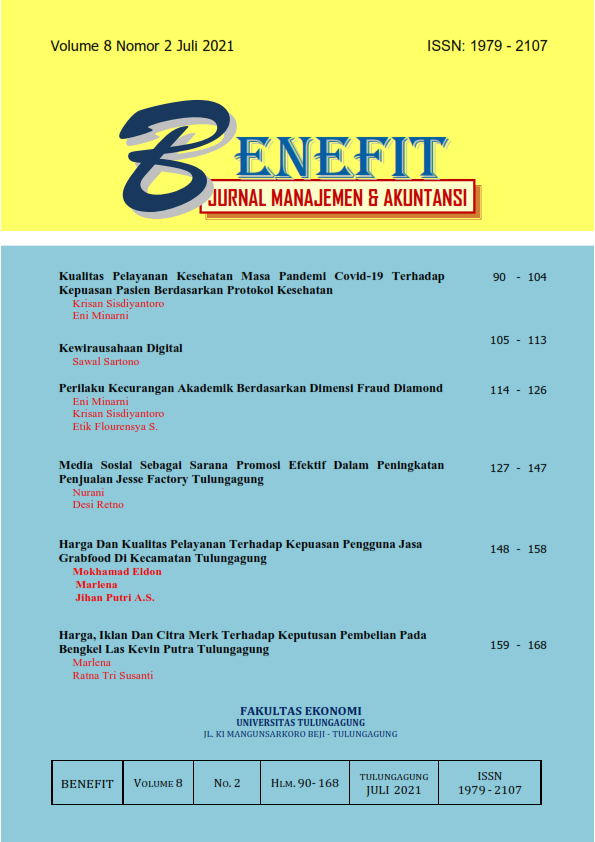 How to Cite
Nurani Nurani, & Desi Retno. (2021). Media Sosial Sebagai Sarana Promosi Efektif Dalam Peningkatan Penjualan Jesse Factory Tulungagung. BENEFIT , 8(2), 127-147. Retrieved from https://journal.unita.ac.id/index.php/benefit/article/view/432