POTRET ATAS PEMAHAMAN GOOD GOVERNANCE
Diah Ayu Septi Fauji

Universitas Nusantara PGRI
Abstract views:
62
,
PDF downloads:
46
Keywords:
Good Governance, Pemerintah Desa.
Abstract
Abstrak
Penelitian ini bertujuan untuk memetakan persepsi masyarakat Desa Sukopuro atas Good Governance. Tujuan khusus dari penelitian ini adalah agar  pihak–pihak terkait bisa benar–benar menerapkan Good Governance. Good Governance merupakan dambaan bagi pemerintahan Republik Indonesia, namun dalam hal ini Indonesia sendiri menjadi negara yang sedang berjuang untuk menciptakan Good Governance. Untuk mendapatkan Potret atas pemahaman Good Governance oleh masyarakat Desa Sukopuro dalam penelitian ini dilakukan dengan menggunakan metode kualitatif melalui pendekatan  fenomenologi. Hasil dari penelitian ini menunjukkan bahwa (1) Masyarakat kurang memahami atasGood Governance(2) Masyarakat desa hanya mengetahuikepala desanya baik, jalan sudah bagus, tidak kekurangan air dan biaya ke puskesmas murah. Hal ini menunjukkan bahwa subtansi Good Governance dipahami dengan basis kearifan lokal, masyarakat tidak tahu apa sebenarnya substansi dari Good Governance.
Abstract
This study aims to map the public perception of Sukopuro Village on Good Governance. The specific objective of this research is that stakeholders can actually implement Good Governance. Good Governance is a dream for the government of the Republic of Indonesia, but in this case Indonesia itself is a country that is struggling to create Good Governance. To get a Portrait of Good Governance understanding by Sukopuro Village community in this research is obtained by using qualitative method with phenomenology approach. The results of this study indicate that (1) The community lacks understanding of Good Governance (2) The villagers only know the good village, the road is good, not the lack of water and the cost to the low-cost health center. This shows that the Good Governance substance is understood on the basis of local wisdom, people do not know what is actually the substance of Good Governance.
References
DAFTAR PUSTAKA
Dwiyanto, Agus, dkk. 2006. ReformasiBirokrasiPublikdi Indonesia. Yogyakarta: UGM Press.
Handoyo, R Joko (2014). Penerapan Good Governance Dalam Pelayanan Publik Di Kantor Camat Sangatta Utara Kabupaten Kutai Timur.e-Journal Ilmu Pemerintahan, 2(4)2014: 3363-3373.ISSN 0000-0000ejournal.ip.fisip.unmul.org
Maryam, N.S. 2016. Mewujudkan Good Governance MelaluiPelayananPublik.JurnalIlmuPolitikdanKomunikasi.Vol VI No. 1/ Juni 2016.
Rosyada,A.A.(2016). Analisis Penerapan Prinsip Good Governance Dalam Rangka Pelayanan Publik di Badan Pelayanan Perizinan Terpadu Satu Pintu Di Kota Samarinda. Journal Ilmu Pemerintahan, 4(1)2016: 102-114.ISSN 2477-2631 ejournal.ip.fisip-unmul.ac.id.
Sadjijono.2007. FungsiKepolisianDalamPelaksanaan Good Governance.LAKSBANG.
Undang – Undang Republik Indonesia Nomor 6 Tahun 2014 tentang Desa.2014. Jakarta: Bumi Aksara.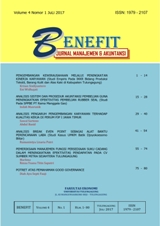 How to Cite
Fauji, D. A. S. (2017). POTRET ATAS PEMAHAMAN GOOD GOVERNANCE. BENEFIT , 4(1), 75-80. Retrieved from https://journal.unita.ac.id/index.php/benefit/article/view/98