PENGARUH SIKAP IBU BEKERJA TERHADAP PEMBERIAN ASI EKSKLUSIF DI PRODI D3 KEBIDANAN UNIVERSITAS TULUNGAGUNG
Ainun Hanifa Ainun

Universitas Tulungagung
Abstract views:
954
,
pdf downloads:
604
Keywords:
SIKAP IBU BEKERJA, ASI EKSLUSIF
Abstract
ABSTRAK
Air susu ibu (ASI) merupakan cairan yang diproduksi oleh payudara ibu sebagai makanan paling baik dan cocok untuk bayi. Didalam ASI terkandung semua kebutuhan gizi yang diperlukan bayi pada enam bulan awal. Berbagai penelitian yang telah dilakukan didapatkan salah satu kendala dalam pemberian ASI ekslusif adalah ibu yang sedang bekerja.
Jenis penelitian ini menggunakan metode observasional dengan kohort prospektif. Teknik sampel dengan Total sampling. Penelitian dilakukan di PRODI D3 Kebidanan Universitas Tulungagung. Analisa data diuji dengan chi-square.
Hasil penelitian didapatkan ada peng pemberian ASI ekslusif (P = 0,027). Sikap seseorang yang negatif akan membuat perilaku pemberian ASI juga negatif dan sikap yang positif dalam memberikan ASI akan membuat perilaku pemberian ASI Eksklusif juga menjadi positif.
ABSTRACT
Breast milk is the liquid produced by the mother's breast as the best and suitable food for the baby. Breast milk contains all the nutritional needs a baby needs in the first six months. Various studies that have been conducted found that one of the obstacles in exclusive breastfeeding is mothers who are working.
This type of research uses an observational method with a prospective cohort. Sample technique with total sampling. The research was conducted at D3 Midwifery Study Program, University of Tulungagung. Data analysis was tested by chi-square.
The results showed that there was exclusive breastfeeding (P = 0.027). A negative person's attitude will make breastfeeding behavior negative and a positive attitude in breastfeeding will make exclusive breastfeeding behavior also positive.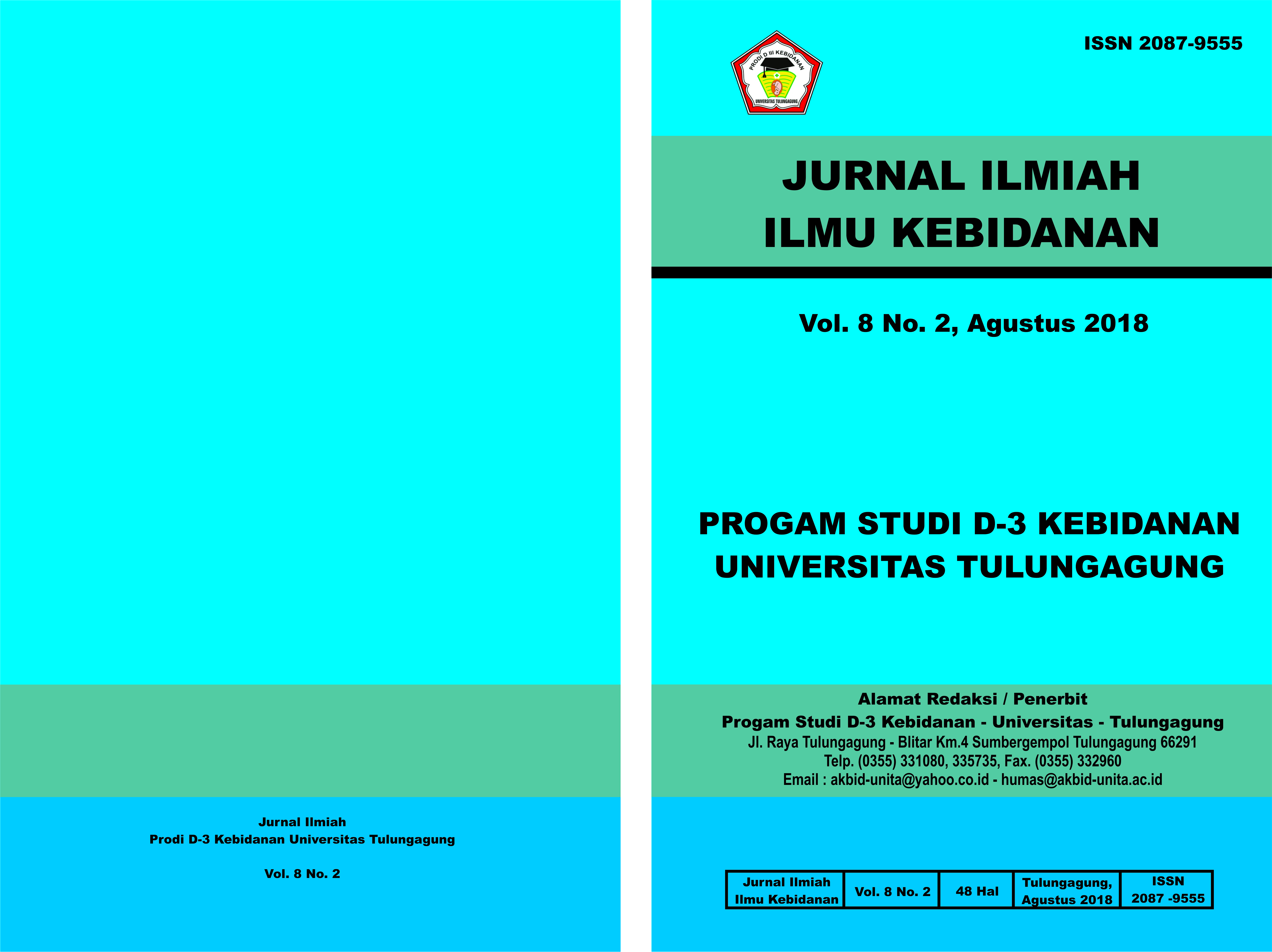 How to Cite
Ainun, A. H. (2018). PENGARUH SIKAP IBU BEKERJA TERHADAP PEMBERIAN ASI EKSKLUSIF DI PRODI D3 KEBIDANAN UNIVERSITAS TULUNGAGUNG. Kebidanan, 8(2), 1-4. Retrieved from https://journal.unita.ac.id/index.php/bidan/article/view/235