PENGARUH PENGETAHUAN PAPSMEAR TERHADAP PELAKSANAAN PAPSMEAR PADA PEKERJA WANITA DI PR. TRUBUS ALAMI DESA SIDOREJO KECAMATAN PAGELARAN KABUPATEN MALANG
Dewi Ratna Sulistina

Universitas Tulungagung
Abstract views:
77
,
pdf downloads:
64
Keywords:
pengetahuan, papsmear, pekerja wanita
Abstract
ABSTRAK
Pap smear digunakan untuk deteksi dini keganasan serviks melalui pemeriksaan sitologi organ serviks dan juga bagian serviks.
Penelitian kuantitatif dengan desain studi cross sectional. Variabel dalam penelitian ini adalah pengetahuan dan pelaksanaan Pap smear Pap smear dengan jumlah populasi 40 ibu bekerja, menggunakan teknik non probability sampling sensus, alat ukur menggunakan kuesioner, lokasi penelitian di Humas. Pameran Poster Alam Desa Sidorejo Kecamatan Malang. 22 Mei 2015. Saat penelitian teknik analisis data dengan menggunakan chi square.
Ada pengaruh yang signifikan pengetahuan pap smear terhadap penerapan pap smear pada tenaga kerja wanita, berdasarkan analisis data menggunakan uji statistik Chi Square p value 0,000 <0,05.
Semakin tinggi pengetahuan Pap smear maka semakin tinggi penerapannya pada pekerja wanita di PR. Desa Trubus Alami Sidorejo Kecamatan Malang.
ABSTRACT
Pap smear is used for early detection of malignancy of the cervix through cytological examination of the cervical organs and also portions of the cervix.
Quantitative research with cross sectional study design. The variable in this study is the knowledge and implementation of the Pap smear Pap smear with a total population of 40 working mothers, using a non-probability sampling techniques census, the measuring instrument using questionnaires, research sites in PR. Natural Poster Exhibition Sidorejo Village District of Malang. May 22, 2015. When the study data analysis technique by using chi square.
There is a significant effect of Pap smear knowledge on the implementation of Pap smear among female workers, based on data analysis using statistical test Chi Square p value 0.000 <0.05.
The higher knowledge of the Pap smear so the higher implementation on women workers in PR. Trubus Alami Sidorejo Village District of Malang.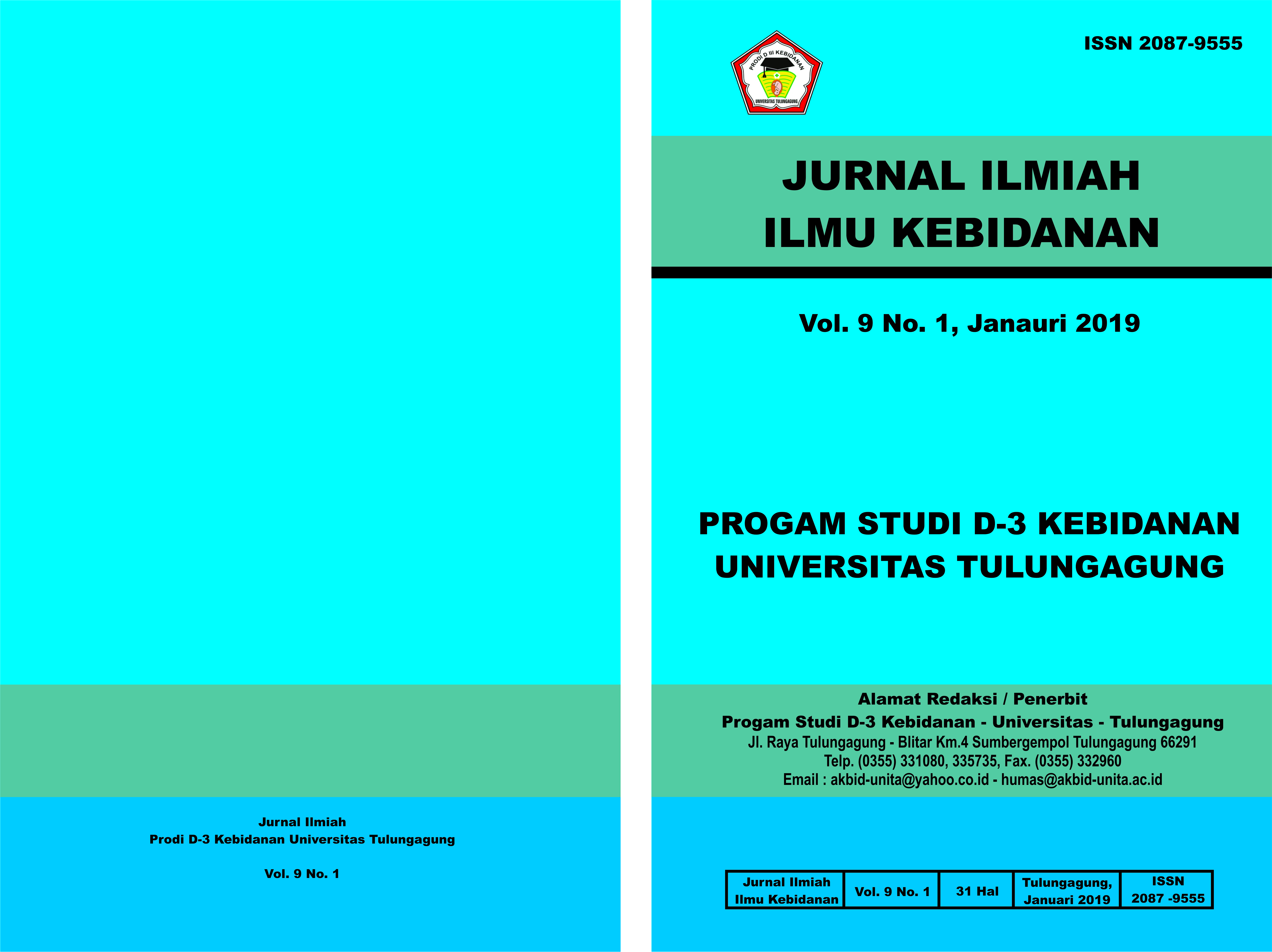 How to Cite
Dewi Ratna Sulistina. (2019). PENGARUH PENGETAHUAN PAPSMEAR TERHADAP PELAKSANAAN PAPSMEAR PADA PEKERJA WANITA DI PR. TRUBUS ALAMI DESA SIDOREJO KECAMATAN PAGELARAN KABUPATEN MALANG. Kebidanan, 9(1), 1-4. Retrieved from https://journal.unita.ac.id/index.php/bidan/article/view/253