ANALISA USAHATANI KUBIS DENGAN MENERAPKAN PENGENDALIAN HAMA TERPADU
ABDUL ROCHMAN

Universitas Tulungagung
Abstract views:
373
,
PDF downloads:
376
Abstract
ABSTRAK
Usaha untuk mewujudkan kesejahteraan masyarakat adalah yang selalu diusahakan, baik oleh pemerintah daerah maupun pemerintah pusat, dengan menggunakan berbagai programnya, yang tentu saja harus tetap memperhatikan potensi yang ada di daerah masing-masing.Agar potensi daerah dapat bermanfaat, maka masyarakat melakukan kegiatan ekonmi, dengan melihat peluang yang ada, sarana dan prasarana ekonomi yang dapat menunjang serta mendorong kegiatan ekonomi tersebut. Salah satunya adalah usaha produk olahan tempe, karena tempe adalah salah satu bahan makanan yang sudah merakyat, dan dikonsumsi hampir setiap hari oleh  masyarakat Indonesia, dari masyarakat kalangan atas sampai bawah, yang tidak dibatasai oleh status sosial. Hal ini menarik bagi peneliti untuk mengetahui, berapa pendapatan produsen home industri tempe kripik, dan faktor yang mempengaruhinya. Dari faktor umur, tingkat pendidikan dan pengalaman atau lama usaha, manakah  yang paling berpengaruh terhadap pendapatan produsen home industri tempe kripik. Dalam penelitian ini menggunakan metode deskriptif kuantitatif, dengan melakukan survei, sedangkan penentuan daerahnya dilakukan secara sengaja, dengan alasan bahwa Kelurahan Tamanan, Kecamatan Trenggalek, Kabupaten Trenggalek merupakan salah satu daerah sentra home industri tempe kripik yang ada di Jawa Timur. Dari hasil analisis dapat diketahui rata-rata pendapatan produsen home industri tempe kripik, dalam satu kali produksi adalah Rp 695.650,- sedangkan faktor umur, tingkat pendidikan dan lama usaha atau pengalaman ternyata tidak berpengaruh terhadap pendapatan, baik secara bersama-sama, maupun secara parsial.
Kata Kunci: Faktor Produksi,Home Industri Tempe Kripik, Pendapatan
ABSTRACT
Efforts to create public welfare are what the regional and central governments always strive to make, by using various programs and utilizing any potential in each region. In order for the regional potential to be useful, the community shall carry out economic activities, by looking at the opportunities, economic facilities and infrastructure that can support and encourage economic activity. One of the examples is the business of processed tempe products, because tempe is one of the most popular foodstuffs, and is consumed almost every day by Indonesians, from the upper class to the lower classes, who are not limited by social status. This is interesting for researchers to find out the income of the home industry producer of tempe chips, and the factors that influence it. From the factors of age, level of education, and experience or length of business, which one has the most influence on the income of the home industry tempe chips producers. In this study using a quantitative descriptive method, by conducting a survey, while the determination of the area was conducted purposively at Tamanan Village, Trenggalek District, Trenggalek Regency as one of the centers for the home industry for tempe chips in East Java. From the results of the analysis, it can be seen that the average income of the home industry tempe chips producers, in one production was IDR 695,650. The factors of age, education level, and length of business or experience did not significantly affect income, either jointly or partially.
Keywords: Production Factor, Home Industry, Tempe Chips, Income
Downloads
Download data is not yet available.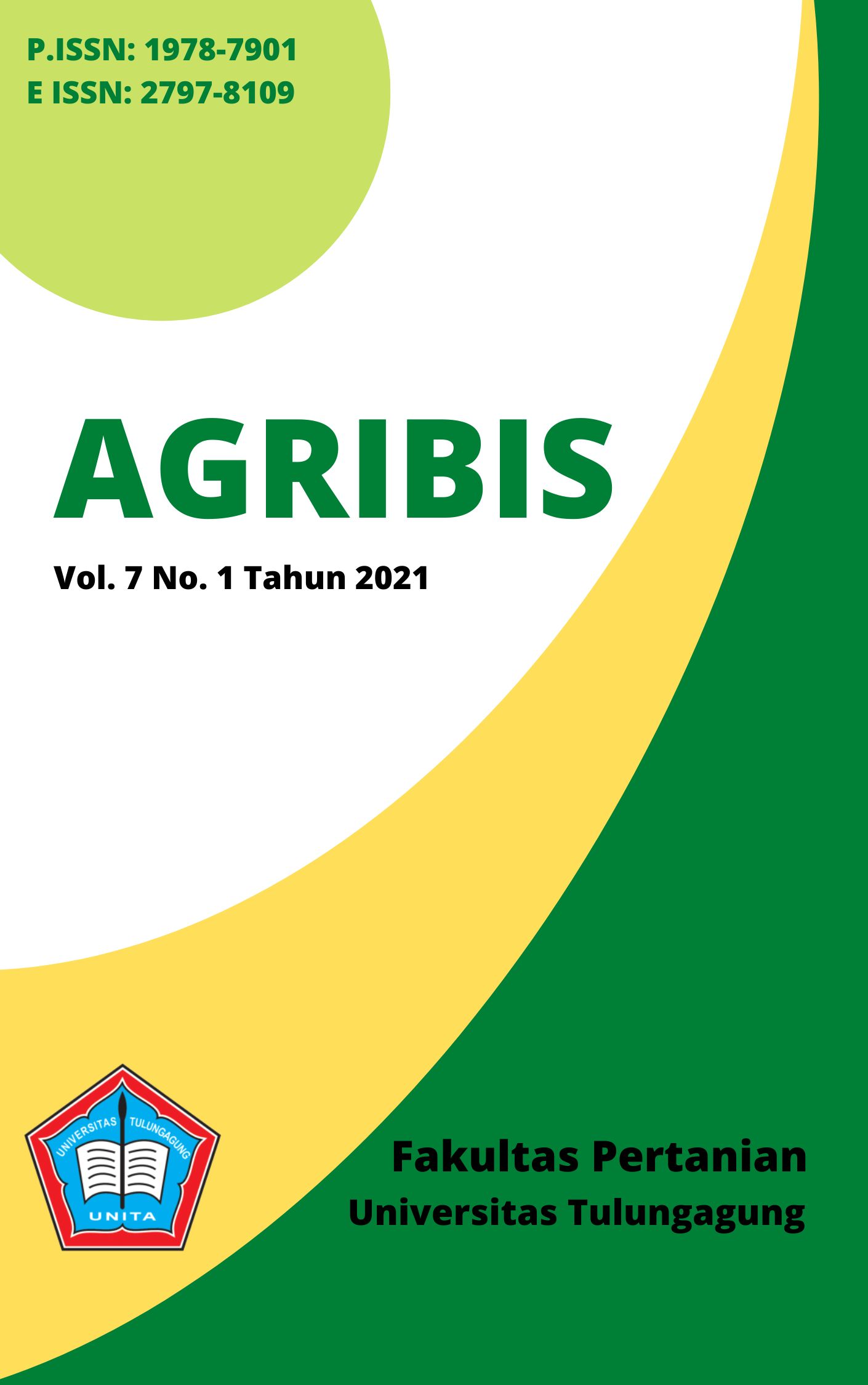 How to Cite
ABDUL ROCHMAN. (2021). ANALISA USAHATANI KUBIS DENGAN MENERAPKAN PENGENDALIAN HAMA TERPADU . Jurnal AGRIBIS, 7(1), 59-74. https://doi.org/10.36563/agribis.v7i1.294