RESPON KELOMPOK TANI TERHADAP PERAN PPL / PENYULUH PERTANIAN LAPANGAN DI KECAMATAN KALIDAWIR, KABUPATEN TULUNGAGUNG
Abdul Rochman

Universitas Tulungagung
Abstract views:
389
,
PDF downloads:
519
Abstract
ABSTRAKSI
Perkembangan dibidang teknologi pertanian pada saat ini telah memberikan banyak kontribusi dibidang pertanian. Namun ternyata belum banyak dinikmati oleh para petani. Ini karena ada beberapa kendala diantarnya rendahnya pengetahuan para petani dan keterbatasan dibidang sumber daya seperti modal, tanah dan lain-lain. Respon kelompok tani terhadap peran PPL tentu mampu menciptakan terjadinya hubungan yang serasi yang bersifat interpersonal antara kelompok tani dan PPL. Ada faktor-faktor intern dan ekstern yang berpengaruh pada respon kelompok tani terhadap PPL. Faktor intern meliputi sifat stereotip, kearifan terkait menyunting stimulus, konsep tentang diri, kebutuhan dan harapan, emosi tentang diri dan pengalaman di masa lalu. Faktor ekstern antara lain : intensitas kunjungan, frekuensi kunjungan dan ukuran maupun pengulangan kunjungan. Dari hasil penelitian dapat dilihat bahwa faktor intern ataupun faktor ekstern tidak mempunyai hubungan dengan respon petani, namun hubungannya sangat kuat dengan peran PPL dan hasil analisa terdapat hubungan respon para petani terhadap peran PPL. Hasil penelitian menunjukkan bahwa PPL sebagai pembimbing mempunyai kategori tinggi dengan skor 71,3%, PPL sebagai organisator mempunyai kategori sedang dengan skor 60,7%, PPL sebagai dinamisator mempunyai kategori tinggi dengan skor 81,3% dan PPL sebagai teknisi mempunyai kategori sedang dengan sekor 62,3%. Adapun saran dari penelitian ini meliputi : perlunya suasana yang kondusif antara para kelompok petani dengan PPL.
Kata kunci : Peran PPL, respon petani, faktor intern dan ekstern petani
ABSTRACT
Developments in the field of agricultural technology at this time have contributed a lot in the field of agriculture. However, it has not been widely enjoyed by farmers. This is because there are several obstacles including the low knowledge of farmers and limitations in the field of resources such as capital, land and others. The response of farmer groups to the role of PPL is certainly able to create a harmonious interpersonal relationship between farmer groups and PPL. There are internal and external factors that influence the response of farmer groups to PPL. Internal factors include the nature of stereotypes, wisdom related to editing the stimulus, self-concept, needs and expectations, emotions about oneself and past experiences. External factors include: intensity of visits, frequency of visits and the size and repetition of visits. From the results of the study, it can be seen that internal factors or external factors do not have a relationship with the response of farmers, but the relationship is very strong with the role of PPL and the results of the analysis show that there is a relationship between the responses of farmers to the role of PPL. The results showed that PPL as a supervisor had a high category with a score of 71.3%, PPL as an organizer had a medium category with a score of 60.7%, PPL as a dynamist had a high category with a score of 81.3% and PPL as a technician had a medium category with score 62.3%. The suggestions from this research include: the need for a conducive atmosphere between farmer groups and PPL.
Keywords: PPL role, farmer response, internal and external factors of farmers
Downloads
Download data is not yet available.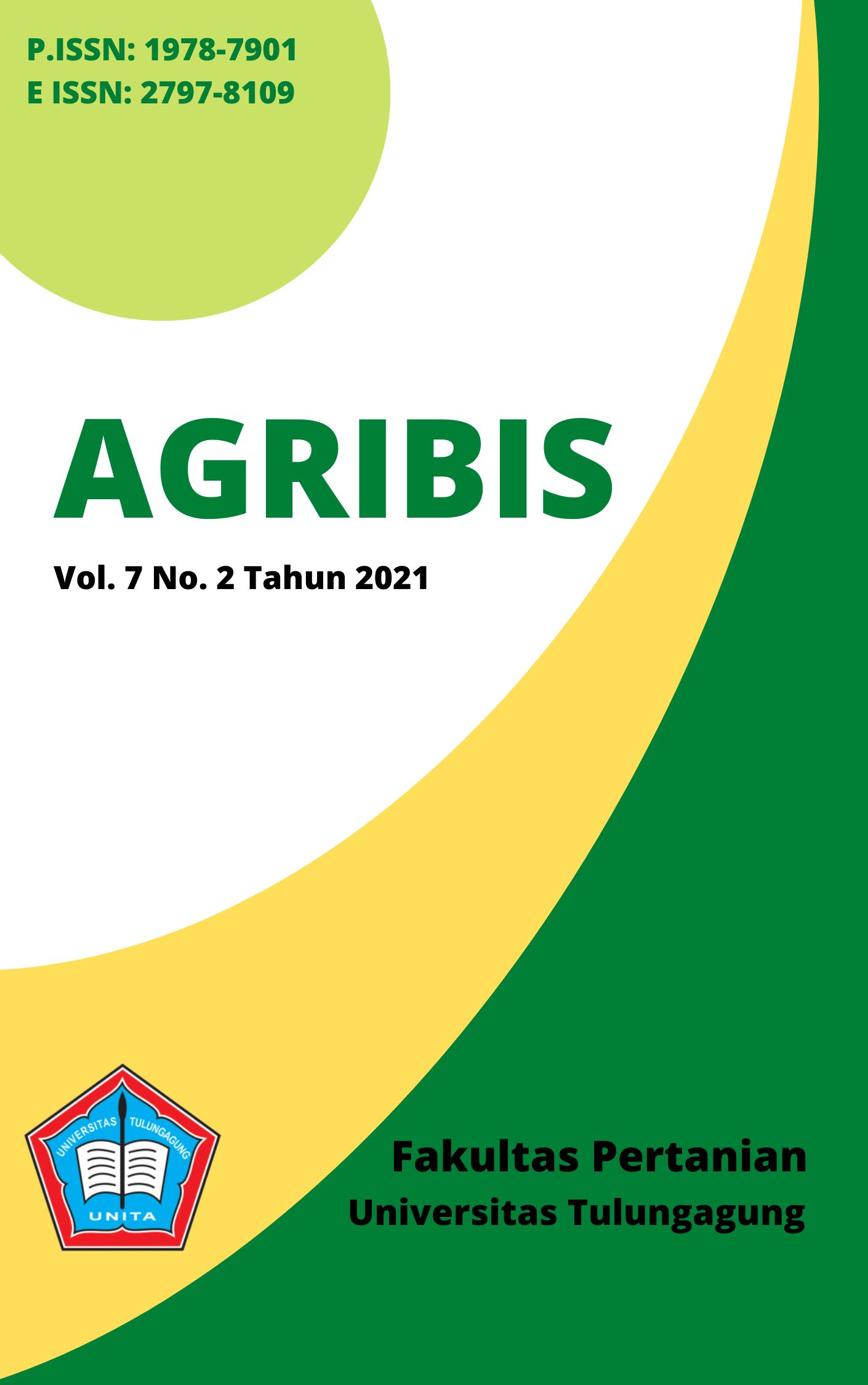 How to Cite
Abdul Rochman. (2021). RESPON KELOMPOK TANI TERHADAP PERAN PPL / PENYULUH PERTANIAN LAPANGAN DI KECAMATAN KALIDAWIR, KABUPATEN TULUNGAGUNG. Jurnal AGRIBIS, 7(2), 26-40. https://doi.org/10.36563/agribis.v7i2.395