Analisis Faktor-faktor Untuk Peningkatan jumlah Pengunjung di Wisata Koptan Ori Green Sendang Tulungagung
Marlena

Fakultas Ekonomi Universitas Tulungagung

Dilla Candra Ardini Kristiyaningrum

Fakultas Ekonomi Universitas Tulungagung
Abstract views:
241
,
PDF downloads:
150
Abstract
Abstrak
Industri pariwisata  saat ini di berbagai negara berkembang sangat pesat.  Tentunya hal ini berpengaruh khususnya bidang ekonomi diantaranya adalah pendapatan masyarakat serta kesempatan kerja. Penelitian berfokus pada pengelolaan strategi pemasaran dalam upaya peningkatan jumlah pengunjung dan Program Pariwisata yang pernah diadakan di Wisata Koptan Ori Green.
Menggunakan metode kualitatif, penduduk/pedagang di sekitar lokasi wisata, dan pengunjung sebagai subyek penelitian. Menggunakan sumber data primer dan sekunder. Metode pengumpulan data melalui observasi, tanya jawab juga dokumentasi.
Dari penelitian dapat di ketahui pengelolaan objek wisata oleh Koperasi Tani Jasa Tirta dan telah memenuhi Prosedur Standar Operasional, tersedianya tenaga Lifeguard juga Asuransi Kecelakaan. Pengelolaan wisata ini berdasarkan konsep Sapta Pesona Pariwisata. Mempunyai delapan sentra bisnis berupa penjualan tiket, tiket jasa parkir, kios kuliner, kios oleh-oleh, penyewaan wahana permainan, penyewaan ban dan pelampung, penitipan jasa loker dan jasa angkutan wisata sehingga dapat dikatakan obyek wisata ini memiliki peran yang sangat penting bagi kesejahteraan masyarakat serta membuka lapangan pekerjaan bagi warga sekutar lokasi wisata.
Kata kunci: Strategi Pemasaran, Peningkatan Jumlah Pengunjung, Ori Green Sendang
 Abstraction
 The very rapid development of the tourism industry in various countries is currently the main sector. Of course this has an effect, especially in the economic sector, including community income and job opportunities. The research focuses on managing marketing strategies in an effort to increase the number of visitors and the Tourism Program that has been held at Koptan Ori Green Tourism.
Using qualitative methods, residents / traders around tourist sites, and visitors as research subjects. Using primary and secondary data sources. Methods of data collection through observation, question and answer as well as documentation.
From the research it can be seen that this tour is managed by the Jasa Tirta Farmer Cooperative and has met Standard Operational Procedures, the availability of Lifeguard personnel as well as Accident Insurance for visitors. This tourism management is based on the concept of Sapta Pesona Pariwisata. Has eight business centers in the form of ticket sales, parking service tickets, culinary stalls, souvenir stalls, rental of game rides, rental of tires and buoys, locker services and tourist transportation services, so it can be said that these attractions have a very important role for the welfare of the community as well as opening jobs for residents around tourist sites.
Keywords :     Marketing Strategy, Increasing the Number of Visitors, Ori Green Sendang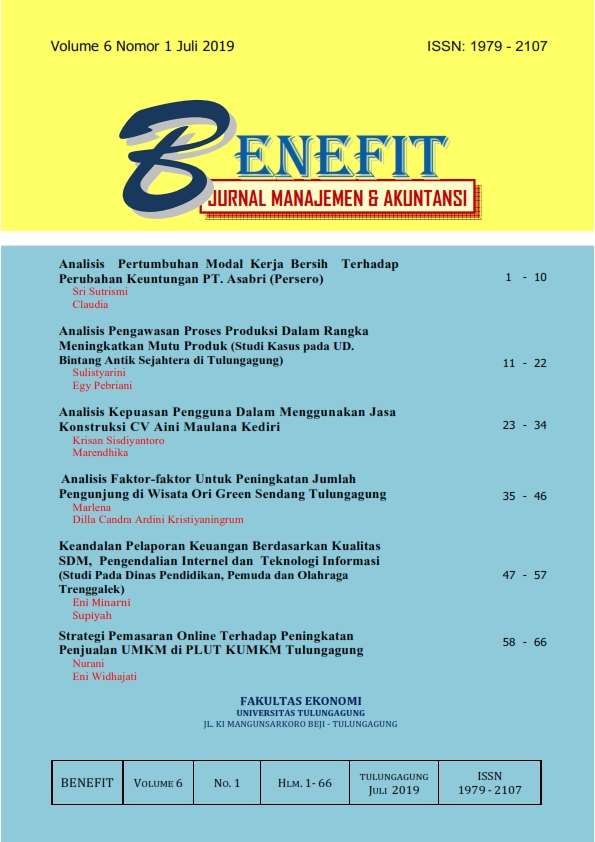 How to Cite
Marlena, & Dilla Candra Ardini Kristiyaningrum. (2019). Analisis Faktor-faktor Untuk Peningkatan jumlah Pengunjung di Wisata Koptan Ori Green Sendang Tulungagung. BENEFIT , 6(1), 35-46. Retrieved from https://journal.unita.ac.id/index.php/benefit/article/view/265