Strategi Pemasaran Online Terhadap Peningkatan Penjualan UMKM Di PLUT KUMKM Tulungagung
Nurani

Fakultas Ekonomi Universitas Tulungagung

Eni Widhajati

Fakultas Ekonomi Universitas Tulungagung
Abstract views:
6850
,
PDF downloads:
2799
Abstract
ABSTRAKSI
Seiring dengan perkembangan internet pelaku usaha peka pada perubahan teknologi sehingga memanfaatkan media internet sebagai sarana pemasaran online. Pemasaran dengan konsep baru ini dapat membantu pelaku usaha menjangkau daerah pemasaran ke seluruh dunia dengan lebih cepat dan akurat.
Strategi pemasaran online serta penerapannya dalam dunia perdagangan yang dilakukan di internet sekarang sudah semakin berkembang. Media elektronik seperti internet memberikan peranan besar dalam aspek pengelolaan bisnis, bisnis online juga semakin banyak peminatnya, termasuk pelaku UMKM.
Penelitian bertujuan melihat seberapa jauh keterkaitan strategi pemasaran online yang sudah dilakukan oleh pelaku usaha terhadap peningkatan penjualan UMKM.
Hasil penelitian diketahui bahwa dengan adanya perkembangan teknologi sekarang pelaku UMKM melakukan strategi pemasaran online agar dapat dengan lebih cepat menempati posisi terdepan menawarkan produknya dan supaya memenangkan persaingan antar pesaing. Pemasaran online sebagai alternatif cara efektif  dan akan berdampak besar terhadap peningkatan penjualan.
 Kata Kunci: Strategi Pemasaran Online, Peningkatan Penjualan
Abstraction
Along with the development of the internet business people are sensitive to technological changes so as to utilize internet media as a means of online marketing. Marketing with this new concept can help businesses reach marketing areas around the world faster and more accurately.
Online marketing strategies and their application in the world of commerce carried out on the internet are now growing. Electronic media such as the internet provides a large role in the aspect of business management, online businesses are also increasingly in demand, including SMEs.
The study aims to see how far the link between online marketing strategies that have been carried out by businesses to increase sales of MSMEs.
The results of the study note that with the development of technology now SMEs do online marketing strategies so that they can more quickly occupy the leading position offering their products and in order to win the competition between competitors. Online marketing as an alternative effective way and will have a major impact on increasing sales.
 Keywords: Online Marketing Strategy, Increasing Sales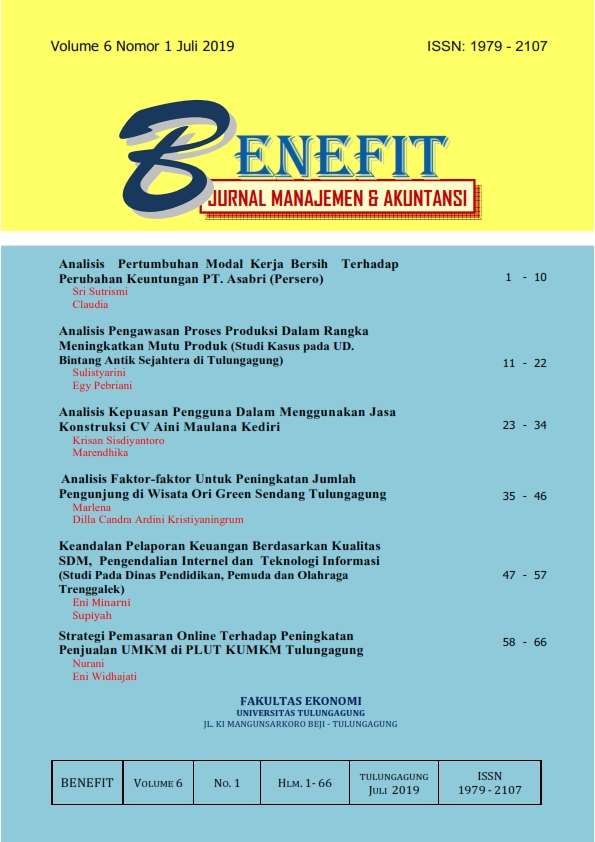 How to Cite
Nurani, & Eni Widhajati. (2019). Strategi Pemasaran Online Terhadap Peningkatan Penjualan UMKM Di PLUT KUMKM Tulungagung. BENEFIT , 6(1), 58-66. Retrieved from https://journal.unita.ac.id/index.php/benefit/article/view/267