Kewirausahaan Digital
Sawal Sartono

Fakultas Ekonomi Universitas Tulungagung
Abstract views:
1083
,
PDF downloads:
4475
Abstract
Abstrak
Dalam penciptaan entitas baru dan penggunaan kemampuan inovatif, keahlian, dan keterampilan yang lebih efektif, penggunaan teknologi digital dalam kehidupan manusia merupakan ciri masyarakat modern. Usaha kecil dan pengusaha telah terpukul daripada sektor ekonomi lainnya oleh pandemi Covid-19. Perusahaan kecil, secara keseluruhan, memiliki lebih sedikit alat untuk menghadapi badai.
UMKM juga memiliki sedikit pengalaman dengan kewirausahaan digital, yang sekarang menjadi salah satu pilihan terbaik mereka untuk menghadapi badai. Di masa krisis ini, usaha kecil harus mengeksplorasi berbagai aktivitas digital. Mengajukan permohonan bantuan pemerintah, tetap berhubungan dengan konsumen secara online, dan meluncurkan penjualan e-commerce untuk barang-barang yang sudah mapan adalah nasihat yang populer.
Dunia modern berkembang pesat di segala bidang, terutama di bidang teknologi informasi dan komunikasi (TIK). Dalam hal ini, adopsi cepat teknologi yang muncul dengan kemampuan kreatif baru mengubah kondisi persaingan, hal ini memerlukan perubahan pada strategi, proses, dan prosedur pasar secara umum. Dalam konteks ini, kewirausahaan digital sangat penting dalam memungkinkan seorang wirausahawan untuk melakukan semua tugasnya secara akurat dan efisien. Karena ini adalah proses menggunakan aplikasi digital, ini membantu pengusaha mana pun dalam meningkatkan nilai pasar produknya dan mengembangkan bisnisnya dengan cara konvensional dan teknologi.
Kata Kunci: Kewirausahaan, Digital, TIK
Abstract
In the creation of new entities and more effective use of innovative capabilities, expertise and skills, the use of digital technology in human life is a hallmark of modern society. Small businesses and entrepreneurs have been hit harder than any other sector of the economy by the Covid-19 pandemic. Smaller companies, on the whole, have fewer tools to weather the storm.
SMEs also have little experience with digital entrepreneurship, which is now one of their best options to weather the storm. In this time of crisis, small businesses must explore various digital activities. Applying for government assistance, staying in touch with consumers online, and launching e-commerce sales for established goods is all popular advice.
The modern world is growing rapidly in all fields, especially in the field of information and communication technology (ICT). In this case, the rapid adoption of emerging technologies with new creative capabilities changes the conditions of competition, this requires changes to strategies, processes and general market procedures. In this context, digital entrepreneurship is very important in enabling an entrepreneur to perform all his/her tasks accurately and efficiently. Since it is a process of using digital applications, it helps any entrepreneur in increasing the market value of his products and growing his business in both conventional and technological ways.
 Keywords: Entrepreneurship, Digital, ICT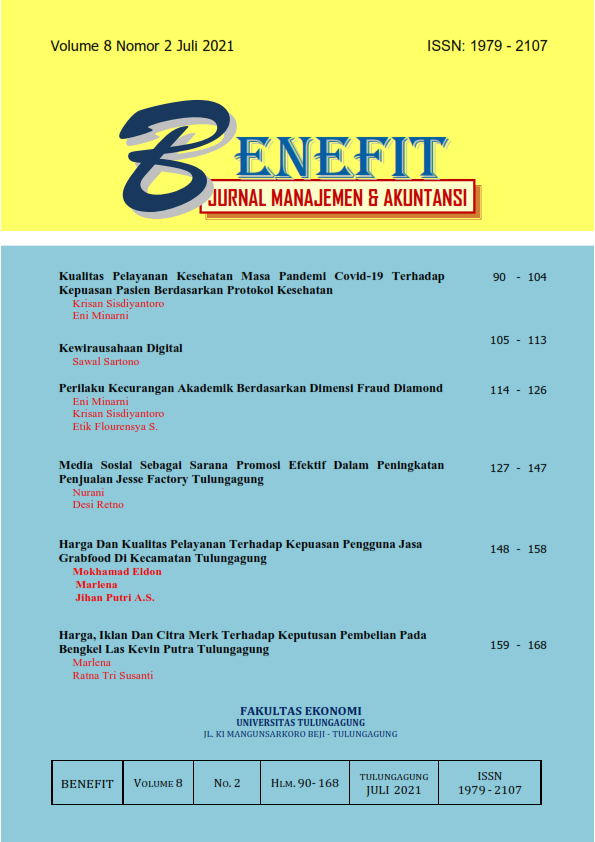 How to Cite
Sawal Sartono. (2021). Kewirausahaan Digital. BENEFIT , 8(2), 105-113. Retrieved from https://journal.unita.ac.id/index.php/benefit/article/view/430