Kewirausahaan; Kewirausahaan Komersial dan Sosial
Studi Literatur
Sawal Sartono

Fakultas Ekonomi Universitas Tulungagung

Sri Sutrismi

Fakultas Ekonomi Universitas Tulungagung
Abstract views:
1181
,
PDF downloads:
4849
Abstract
Abstrak
Kewirausahaan memiliki peran penting dalam pertumbuhan ekonomi, peran kewirausahaan adalah sebagai mesin pendorong dalam produksi barang dan jasa. Banyak penelitian tentang penelitian kewirausahaan yang telah dilakukan. Penelitian ini bertujuan untuk memberikan pemahaman tentang dua jenis kewirausahaan. Penelitian menggunakan studi literatur yang berhubungan dengan pendefinisian kewirausahaan komersial dan kewirausahaan sosial.
Kata kunci : Definisi, kewirausahaan komersial, kewirausahaan sosial
Abstract
Entrepreneurship has an important role in economic growth, the role of entrepreneurship is as a driving machine in the production of goods and services. Much research has been done on entrepreneurship research. This study aims to provide an understanding of two types of entrepreneurship. This study uses literature studies related to defining commercial entrepreneurship and social entrepreneurship.
Keyword : Definition, commercial entrepreneurship, social entrepreneurship.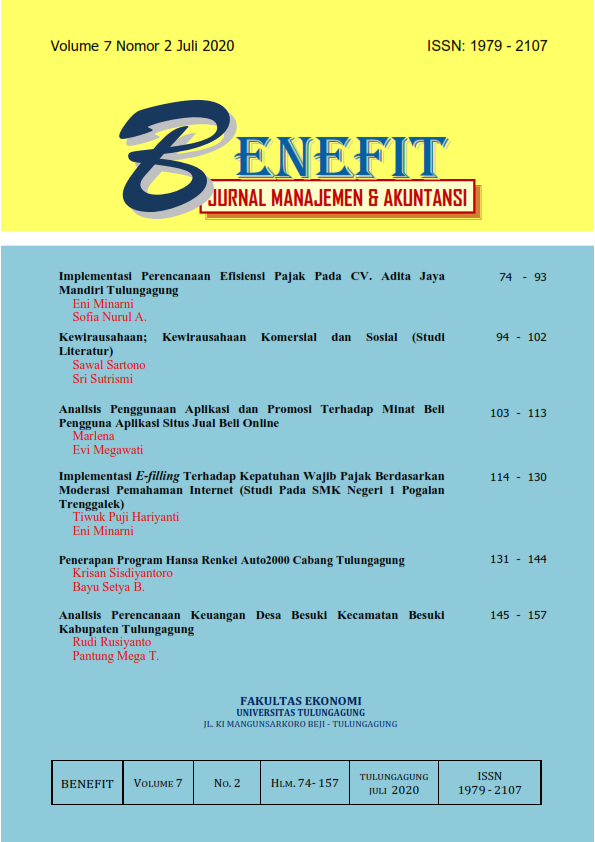 How to Cite
Sawal Sartono, & Sri Sutrismi. (2020). Kewirausahaan; Kewirausahaan Komersial dan Sosial: Studi Literatur. BENEFIT , 7(2), 94-102. Retrieved from https://journal.unita.ac.id/index.php/benefit/article/view/275