SIKAP IBU NIFAS TENTANG IMUNISASI DASAR DI BPM WINARTI SIDODADI SUMBERGEMPOL KABUPATEN TULUNGAGUNG TAHUN 2018
Nunik Ningtiyasari

Universitas Tulungagung
Abstract views:
1
,
pdf downloads:
1
Keywords:
sikap, ibu nifas, imunisasi dasar
Abstract
Penyakit bisa ditanggulangi menggunakan imunisasi sehingga kematian balita dan anak dapat dicegah. Keadaan ini berkaitan pengetahuan kurang mengenai imunisasi. Orok, anak masa pertumbuhan menjadi sasaran terjangkitnya penyakit tersebut. Sebenarnya dapat dihadang dengan menumbuhkan imunitas dengan memberikan bakteri yang dilemahakan atau dimatikan itu. Tujuan penelitian ini Sikap Ibu Nifas Tentang Imunisasi Dasar di PMB Winarti Ds. Sidodadi Kec. Sumbergempol Kabupaten Tulungagung
Penelitian dilaksanakan tanggal 1-30 Juni 2018. Penelitian deskriptif observasional dan variabel tunggal yaitu sikap ibu nifas tentang imunisasi dasar di ruang nifas Populasi : semua ibu nifas di PMB Winarti Ds. Sumberdadi Kec. Sumbergempol berjumlah 120 responden. Teknik pengambilan sampel adalah purposive sampling. Sampelnya populasi memenuhi kriteria inklusi 75 orang.
Hasil penelitian menunjukkan bahwa 75 orang, sebagian besar bersikap negatif pemberian imunisasi dasar yaitu sebanyak 43 (57,33%).
Sikap negatif yang diperoleh juga dipengaruhi oleh sumber informasi, pengetahuan, pendidikan dan umur. Pengalaman mendukung keberhasilan program ini kaerena meyakinkan seseorang sudah pernah menjalaninya.
ABSTRACT
Every year around the world, hundreds of babies and children die from preventable diseases. This is due to information about the importance of immunization. Newborns, children of old school age have a high risk of contracting deadly infectious diseases. The purpose of this study was to see the attitude of post-partum mothers about basic immunization in the post-partum ward of Sumberdadi Village Sumbergempol Sub-District, Tulungagung District.
The research was conducted on 1-30 June 2018. The research design used was descriptive. observational and, namely the attitude of postpartum mothers about basic immunization in the post-partum ward of Sumbergempol Sub-District Tulungagung. Population: all postpartum mothers in e 120 respondents. The sampling technique was purposive sampling. All populations that met the exclusion criteria were 75 people.
The showed that from a total of 75 respondents, most of them were negative about basic immunizatio as many as 43 respondents (57.33%).
Negative attitudes are also obtained by sources of information, knowledge, education and age. Because the absence of experience with an object tends to form a negative attitude about basic immunization, so that the source given is inaccurate or unclear.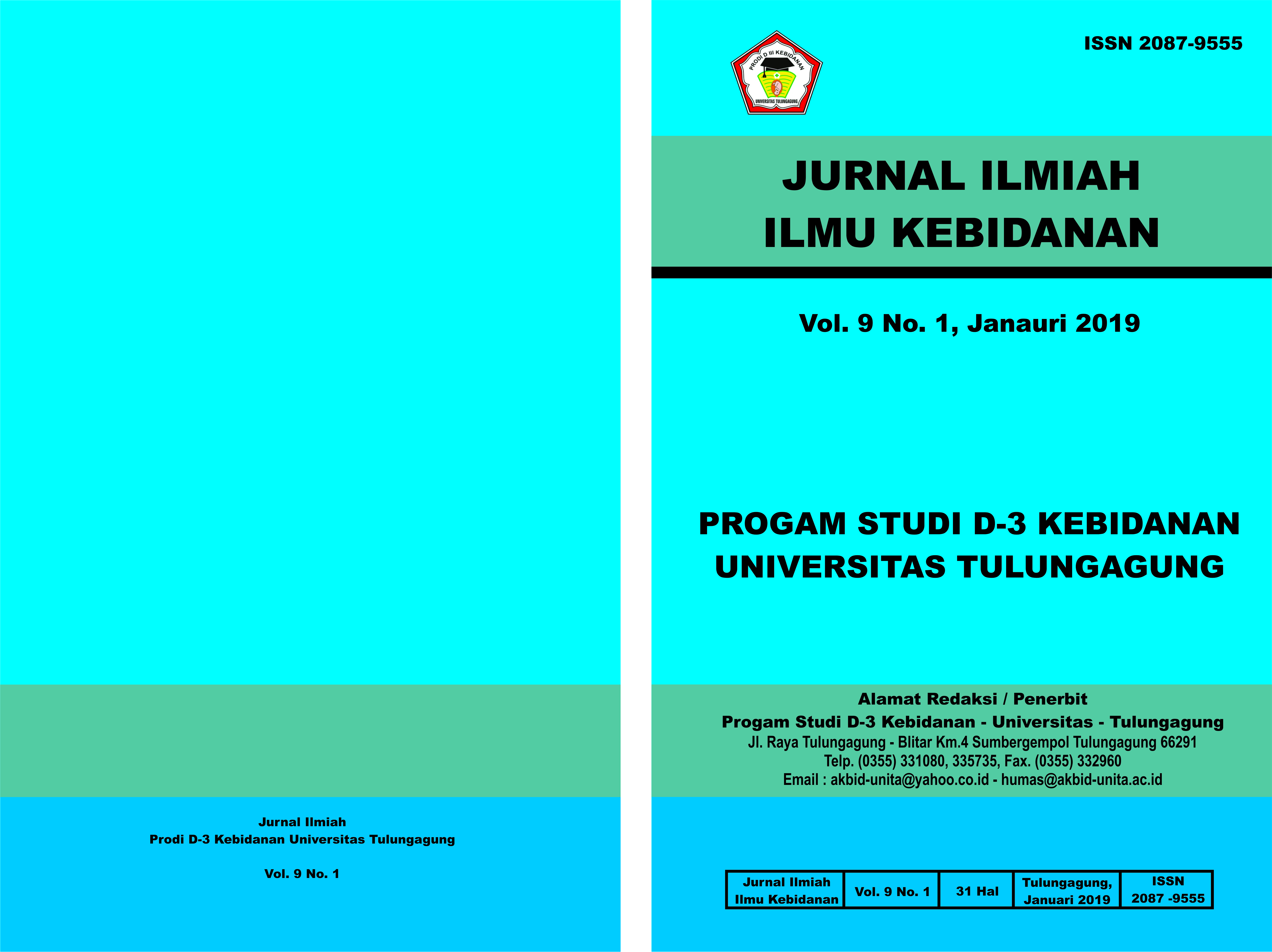 How to Cite
Nunik Ningtiyasari. (2019). SIKAP IBU NIFAS TENTANG IMUNISASI DASAR DI BPM WINARTI SIDODADI SUMBERGEMPOL KABUPATEN TULUNGAGUNG TAHUN 2018. Kebidanan, 9(1), 1-5. Retrieved from https://journal.unita.ac.id/index.php/bidan/article/view/256