HUBUNGAN STATUS GIZI IBU HAMIL DENGAN KEJADIAN BBLR DI PMB JOHANA WIDIJATI KABUPATEN TULUNGAGUNG DESA SIDOREJO KECAMATAN KAUMAN KABUPATEN TULUNGAGUNG
Nunik Ningtiyasari

Universitas Tulungagung
Abstract views:
192
,
pdf downloads:
113
Keywords:
status gizi (LILA), ibu hamil, BBLR
Abstract
ABSTRAK
Status gizi bumil diperlukan dalam hal kaitannya dengan pertumbuhan janin. Ibu mengandung dengan status gizi kurang menyebabkan suplai zat makanan ke anaknya berkurang sehingga menyebabkan pertumbuhan otak terganggu dan berat badan calon bayi kurang/kecil. Tujuan penelitian yaitu mengetahui hubungan antara status gizi ibu hamil dengan kejadian BBLR di PMB Johana Widijati Kabupaten Tulungagung Desa Sidorejo Kecamatan Kauman Kabupaten Tulungagung.
Penelitian ini dilaksanakan, 1 Oktober – 15 Desember 2019. Jenis yang dipakai observasional, metode analitik. Pendekatan variabelnya"Cross Sectional". Populasinya adalah seluruh bayi baru lahir memenuhi kriteria inklusi. Populasinya yaitu 43, dan sampel 40 responden dengan menggunakan accidental, data diuji teknik Chi Square.
Hasil penelitian nilai p 0,023 < 0,05 keadaannya H1 diterima, yang berarti ada hubungan.
Pendidikan, usia dan sosial ekonomi berkaitan dengan kondisi gizi ibu hamil, keadaan ini mempengaruhi pertumbuhan calon anak yang dilahirkannya. Keadaan wanita sebelum dan saat kehamilan sangat mempengaruhi kondisi ini. Jika sehat akam melahirkan bayi berat badan normal.
ABSTRACT
The nutritional status of pregnant women is needed in relation to fetal growth. Pregnant mothers with poor nutritional status cause the supply of nutrients to their children to decrease, causing brain growth to be disrupted and the baby's weight to be less/small. The purpose of the study was to determine the relationship between the nutritional status of pregnant women and the incidence of LBW in PMB Johana Widijati, Tulungagung Regency, Sidorejo Village, Kauman District, Tulungagung Regency.
This research was conducted, October 1 – December 15, 2019. The type used was observational, analytical method. The variable approach is "Cross Sectional". The population is all newborns who meet the inclusion criteria. The population is 43, and a sample of 40 respondents using accidental, the data was tested with the Chi Square technique.
The results of the study p-value 0.023 <0.05, the situation is H1 is accepted, which means there is a relationship.
Education, age and socio-economic conditions are related to the nutritional condition of pregnant women, these conditions affect the growth of the prospective child to be born. The state of the woman before and during pregnancy greatly affects this condition. If you are healthy, you will give birth to a normal weight baby.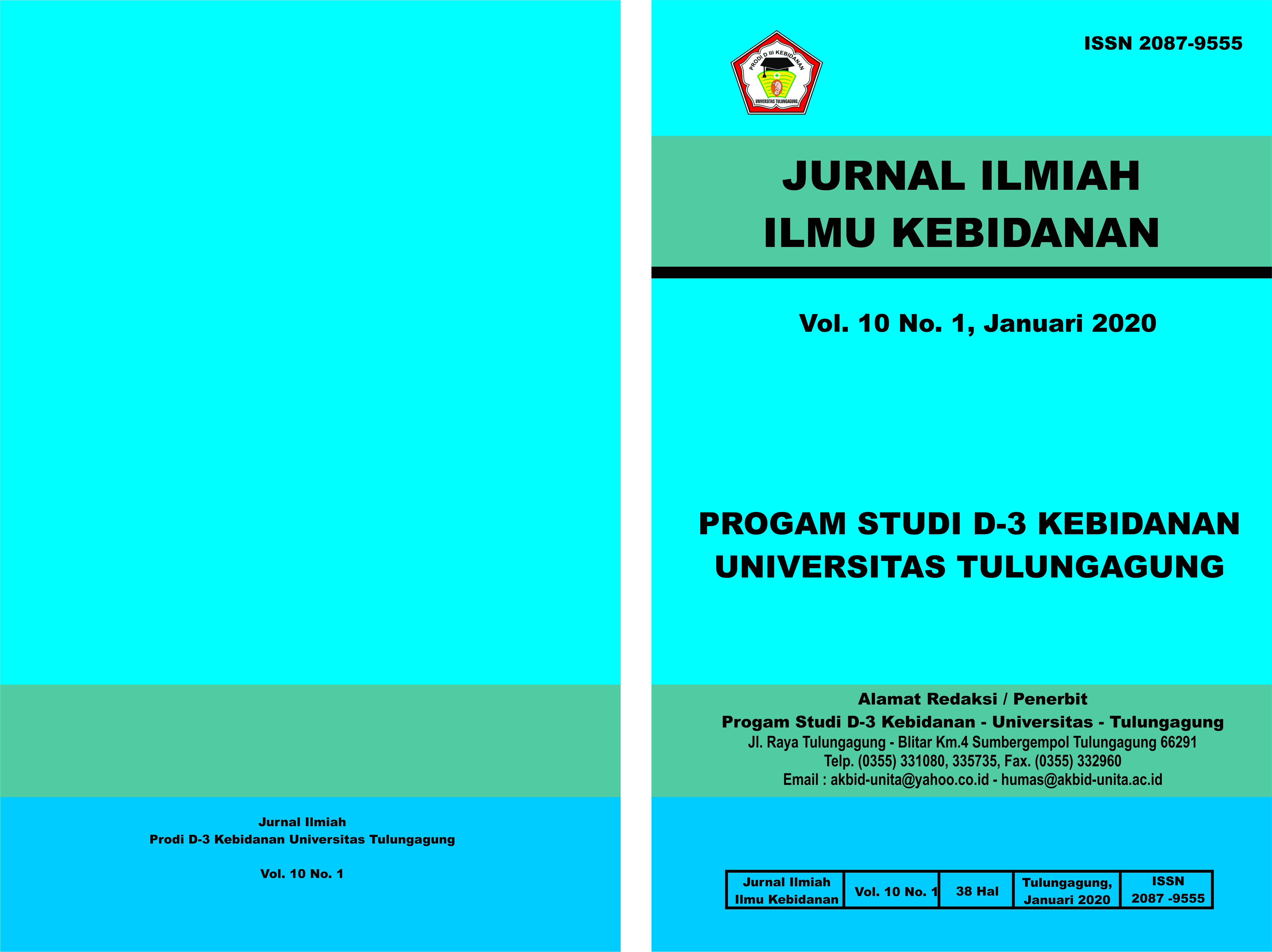 How to Cite
Nunik Ningtiyasari. (2020). HUBUNGAN STATUS GIZI IBU HAMIL DENGAN KEJADIAN BBLR DI PMB JOHANA WIDIJATI KABUPATEN TULUNGAGUNG DESA SIDOREJO KECAMATAN KAUMAN KABUPATEN TULUNGAGUNG. Kebidanan, 10(1), 1-6. Retrieved from https://journal.unita.ac.id/index.php/bidan/article/view/327