SIKAP IBU TENTANG DETEKSI DINI KANKER SERVIKS DENGAN TEKNIK INSPEKSI VISUAL ASAM ASETAT (IVA)
Nunik Ningtiyasari

Universitas Tulungagung
Abstract views:
8
,
pdf downloads:
1
Keywords:
sikap, deteksi dini kanker Serviks, tehnik IVA
Abstract
ABSTRAK
Pemeriksaan pencegahan kanker servik dilakukan secara numenklatur dengan pap smear dan usapan menggunakan asam cuka. Test test yang sudah ada belum tentu akurat karena keterbatasan sensitivitasnya. Diketahuinya secara awal akan mengurangi keparahan kasus. Tujuan penelitian Sikap Ibu Tentang Deteksi Dini Kanker Serviks dengan Teknik Inspeksi Visual Asam Asetat (IVA) di Prumahan Griya Ringin Asri.
Penelitian dilaksanakan pada 10 Juni -10 Juli di Perumahan Griya Ringin Asri kabupaten Tulungagung. Desain penelitian diskriptif. Variabel Sikap Ibu. Populasi semua ibu yang sudah mendapat penyuluhan tentang deteksi kanker cervik, teknik purposive sampling, dipakai kriteria inklusi eksklusi, sampel 35 orang. Instrumen kuesioner tertutup. Pengolahan data dan dianalisis, diprosentase.
Hasil penelitian menunjukkan sebagian besar dari responden bersikap negatif, yaitu 21 responden (60%) dari total 35 responden.
Sikap responden negatif dilatarbelakangi oleh umur responden, pendidikan rendah, kondisi responden yang sibuk bekerja menyebabkan ibu bersikap negatif.
ABSTRACT
Cervical cancer prevention checks are carried out nominally with a pap smear and smears using vinegar. Existing test tests are not necessarily accurate due to their limited sensitivity. Knowing it early will reduce the severity of the case. The aim of this research is the attitude of mothers about early detection of cervical cancer using the visual inspection technique for acetic acid (IVA) at Prumah Griya Ringin Asri.
This research was held on June 10th to July 10th in Griya Ringin Asri Housing, Tulungagung Residence.. The variable of the mother attitude towards early detection to serviks cancer by Isnpeksi Visual Asam Asetat (IVA). All mother population that already got information from midwife about early detection to serviks cancer by Inspeksi Visual Asam Asetat (IVA), Purposive Sampling technique, using Inklusi criteria, 35 people sample. Research Instrument using closed approved activity list. Data Processing by analyzed and be percentage and showed in diagram view.
The results of respondents being negative, ie 21 respondents (60%) of the total 35 respondents.
Negative attitudes of respondents backed by respondents age, loweducation, respondents are busy working condition causes the mother to be negative.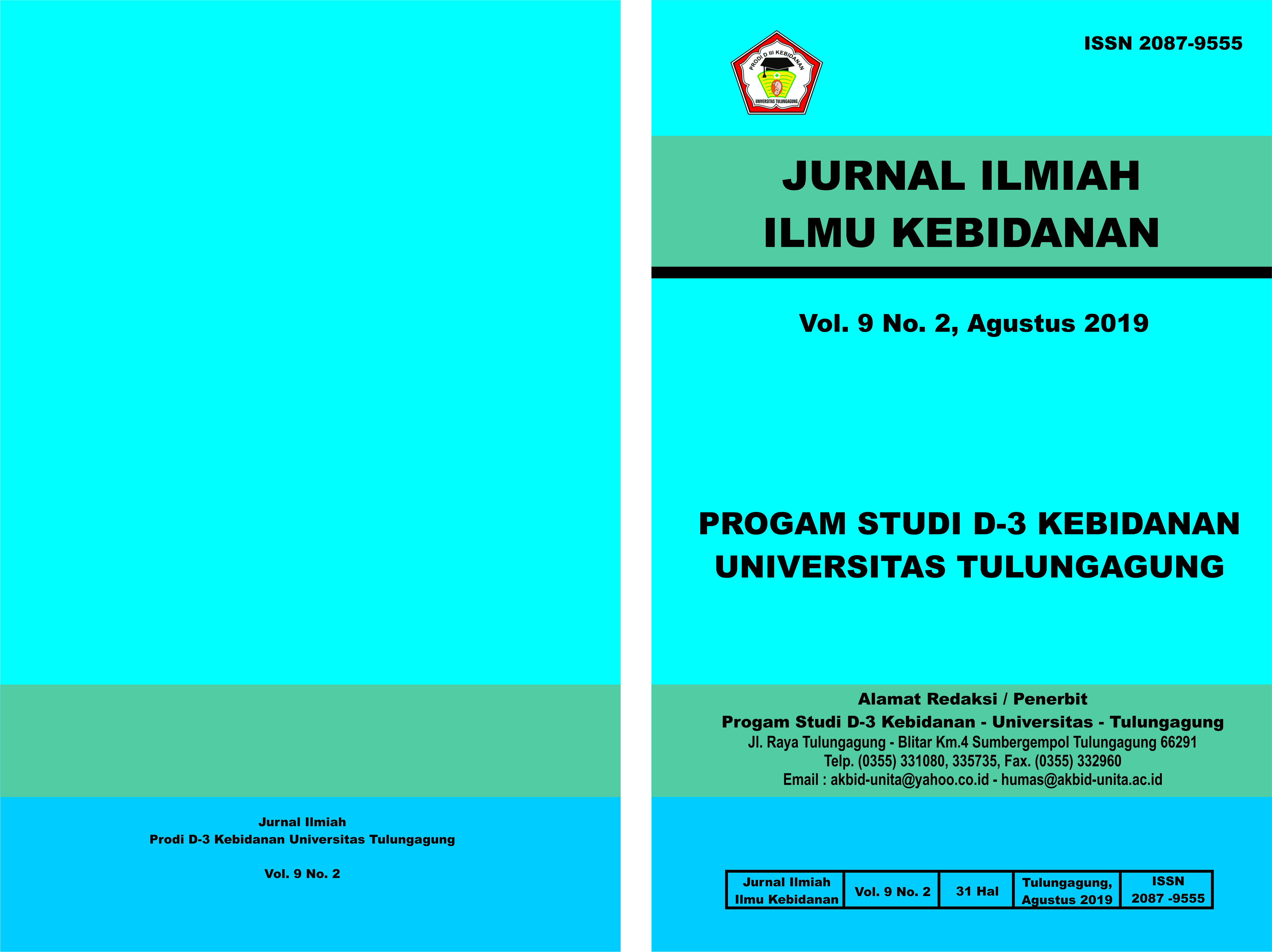 How to Cite
Nunik Ningtiyasari. (2019). SIKAP IBU TENTANG DETEKSI DINI KANKER SERVIKS DENGAN TEKNIK INSPEKSI VISUAL ASAM ASETAT (IVA). Kebidanan, 9(2), 1-5. Retrieved from https://journal.unita.ac.id/index.php/bidan/article/view/310