GAMBARAN KECEMASAN IBU INPARTU PRIMIGRAVIDA DALAM MENGHADAPI PERSALINAN DI PMB JOHANA WIDIJATI DESA SIDOREJO, KECAMATAN KAUMAN KABUPATEN TULUNGAGUNG
Widya Lusi Arisona

Universitas Tulungagung
Abstract views:
235
,
pdf downloads:
236
Keywords:
KECEMASAN, INPARTU, PRIMIGRAVIDA
Abstract
ABSTRAK
Faktor yang pempengaruhi perjalanan persalinan diantaranya power, pessage, passanger dan penolong, begitu juga faktor psikis bisa mempengaruhi keberhasilan inparum. Yaitu faktor psikis tersebut dapat mengakibatkan perpanjangan kala II dan merupakan salah satu faktor medis penyebab langsung kematian ibu. Tujuan dari penelitian ini adalah untuk mengetahui bagaimanakah gambaran akan rasa cemas yang dialami ibu inpartu primigravida yang dalam menghadapi proses persalinan di PMB Johana Widijati Desa Sidorejo Kecamatan Kauman Kabupaten Tulungagung.
Penelitian ini menggunakan desain deskriptif dengan jenis penelitian observasional. Populasi penelitian ini yaitu seluruh ibu inpartu primigravida yang menghadapi persalinan di PMB Johana Widijati Desa Sidorejo Kecamatan Kauman Kabupaten Tulungagung pada tanggal 1 September hingga 30 Oktober 2018 dengan jumlah sampel sebanyak 14 responden.
Hasil pengolahan data didapatkan bahwa gambaran kecemasan ibu inpartu primigravida inpartum sebagian besar yaitu 8 responden (57,15%) mengalami cemas sedang.
Meskipun tetap muncul reaksi kecemasan pada saat inpartu, namun responden masih bisa mengendalikannya. Hal tersebut dipengaruhi oleh kematangan usia serta pendidikan yang tinggi sehingga lebih mudah menerima informasi dan mengurangi tingkat kecemasan responden.
ABSTRACT
Factors that affect the course of labor, including power, messages, passers-by, and helpers, as well as psychological factors can affect parum. That is, these psychological factors can result in the addition of stage II and are one of the medical factors that are the direct causes of maternal death. The purpose of this study was to see a picture of primigravida inpartum in facing childbirth at PMB Johana Widijati, Sidorejo Village, Kauman District, Tulungagung Regency. This study used a descriptive design with observational research type. The population is all primigravida inpartum mothers who face childbirth at PMB Johana Widijati Sidorejo Village, Kauman District, Tulungagung Regency from 1 September to 30 October 2018 with a total sample of 14 respondents. The results of data processing showed that the description of primigravida inpartum in the majority, namely 8 respondents (57.15%) experienced moderate anxiety. Although there are still reactions during labor, respondents can still control it. This can be seen by the maturity of age and higher education so that no information is taken by respondents.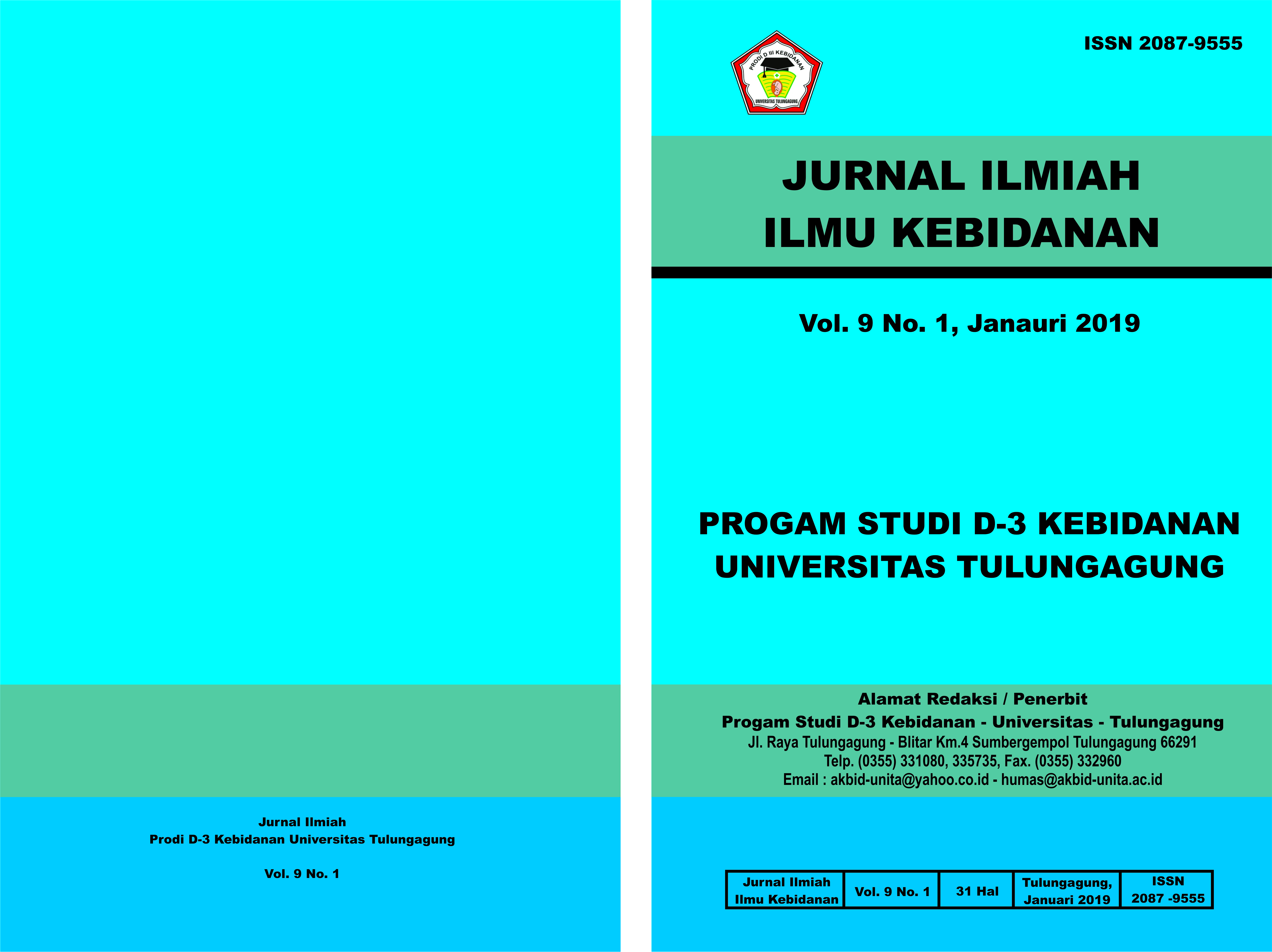 How to Cite
Widya Lusi Arisona. (2019). GAMBARAN KECEMASAN IBU INPARTU PRIMIGRAVIDA DALAM MENGHADAPI PERSALINAN DI PMB JOHANA WIDIJATI DESA SIDOREJO, KECAMATAN KAUMAN KABUPATEN TULUNGAGUNG. Kebidanan, 9(1), 1-5. Retrieved from https://journal.unita.ac.id/index.php/bidan/article/view/257