SIKAP IBU HAMIL TENTANG NUTRISI PADA MASA KEHAMILAN DI BPS JOHANA WIDIJATI DESA SIDOREJO KECAMATAN KAUMAN KABUPATEN TULUNGAGUNG
WIDYA LUSI ARISONA

Universitas Tulungagung
Abstract views:
103
,
pdf downloads:
50
Keywords:
SIKAP, IBU HAMIL, NUTRISI PADA KEHAMILAN
Abstract
ABSTRAK
Kecukupan gizi dapat menjadi penentu dari kualitas SDM. Kematian ibu hamil secara tidak langsung dikarenakan anemia dan kekurangan energi kronis (KEK). Penelitian ini bertujuan untuk mengetahui sikap ibu yang sedang hamil tentang nutrisi pada masa kehamilan di BPS Johana Widijati Desa Sidorejo Kecamatan Kauman Kabupaten Tulungagung.
Penelitian ini menggunakan jenis Observasional dengan desain penelitian deskriptif, jumlah populasi sebanyak 40 responden yaitu semua ibu hamil yang berkunjung di BPS, sampel penelitian sejumlah 33 responden menggunakan metode accidental sampling. Penelitian dilakukan tanggal 23 Maret – 30 April 2020. Pengumpulan data dilakukan dengan quesioner dengan menggunakan skala Likert yaitu 15 pernyataan, data dianalisa menggunakan rumus skor mean T
Hasil dari penelitian didapatkan sebagian besar dari responden bersikap positif yaitu sebanyak 17 responden (51,52%). Sikap positif responden disebabkan setengahnya dari responden sudah pernah mendapatkan informasi dari tenaga kesehatan
ABSTRACT
Adequacy of nutrition can be a determinant of the quality of human resources. Maternal mortality is indirectly caused by anemia and chronic energy deficiency. This study aims to determine the attitude of pregnant women about nutrition during pregnancy in private practice midwife Johanna Widijati, Sidorejo Village, Kauman District, Tulungagung Regency.
The study used an observational type with a descriptive research design, the total population was 40 respondents, namely all pregnant women who visited the midwife's practice, the research sample was 33 respondents using the accidental sampling method. The study was conducted on March 23 – April 30, 2020. The data was collected using a questionnaire using a Likert scale, namely 15 statements, the data was analyzed using the mean T score formula
The results showed that most of the respondents were positive, as many as 17 respondents (51.52%). The positive attitude of the respondents was caused by half of the respondents who had received information from health workers.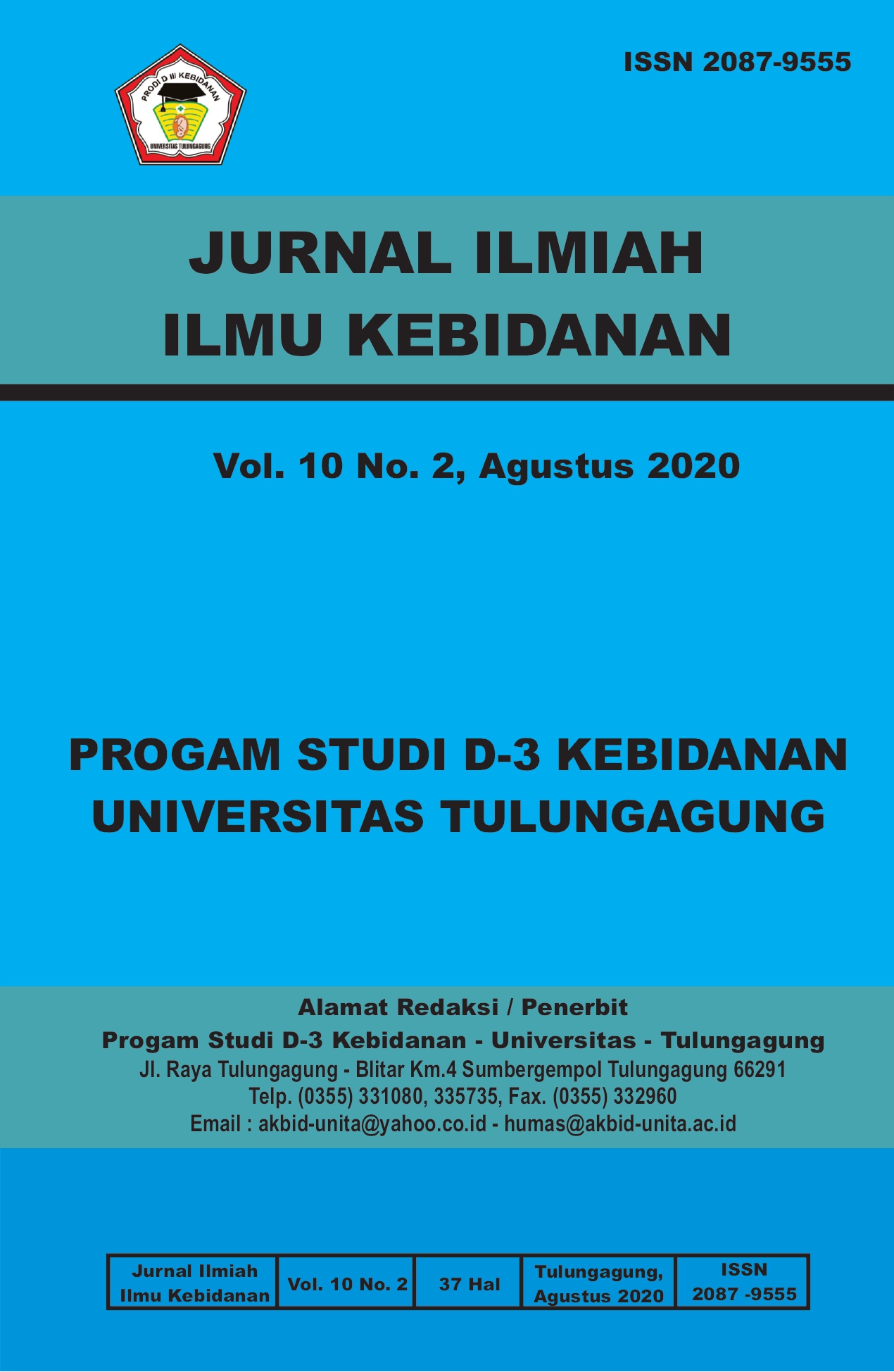 How to Cite
WIDYA LUSI ARISONA. (2020). SIKAP IBU HAMIL TENTANG NUTRISI PADA MASA KEHAMILAN DI BPS JOHANA WIDIJATI DESA SIDOREJO KECAMATAN KAUMAN KABUPATEN TULUNGAGUNG. Kebidanan, 10(2), 1-5. Retrieved from https://journal.unita.ac.id/index.php/bidan/article/view/407