HUBUNGAN PEMAKAIAN KONTRASEPSI HORMONAL DENGAN KEJADIAN PERUBAHAN POLA HAID DI PMB JOHANA WIDIJATI
Widya Lusi Arisona

Universitas Tulungagung
Abstract views:
127
,
pdf downloads:
1293
Keywords:
kontrasepsi hormonal, perubahan pola haid
Abstract
ABSTRAK
Kontrasepsi hormonal adalah kontrasepsi yang paling banyak digunakan oleh masyarakat dikarenakan
paling mudah dijangkau oleh seluruh lapisan masyarakat. Perubahan pola haid yang terjadi pada kirakira
60% akseptor merupakan efek samping yang paling serius dialami oleh akseptor KB hormonal.
Tujuan penelitian ini untuk mengetahui hubungan kontrasepsi hormonal dengan kejadian perubahan
pola haid.
Penelitian ini dilakukan pada tanggal 1 April - 31 Mei 2019 di PMB Johana Widijati. Desain
penelitian yang digunakan adalah analitik dengan menggunakan metode retrospektif. Jumlah
populasinya sebesar 700 orang. Pengambilan sampel menggunakan tehnik Quota Sampling dengan
jumlah responden 70 orang sesuai dengan kriteria inklusi dan eksklusi. Variabel independen
pemakaian kontrasepsi hormonal . Variabel dependen kejadian perubahan pola haid.
Hasil uji statistik chi square signifikasi 0,05 dengan p-value 0,016 < 0,05 sehingga Ho ditolak dan H1
diterima yang berarti ada hubungan pemakaian kontrasepsi hormonal dengan kejadian perubahan pola
haid.
Penggunaan kontrasepsi hormonal dapat terjadi perubahan pola haid disebabkan oleh karena adanya
hormon progesterone yang dapat menekan pertumbuhan folikel,inhibisi ovulasi
ABSTRACT
Hormonal contraceptives are contraceptives that are most widely used by society and are easily
accessible to all levels of society. The change in menstrual pattern that occurs in about 60% of the
acceptors is the most serious side effect of hormonal family planning acceptors. The purpose of this
study was to determine the relationship between hormonal contraception and the incidence of
changing patterns.
This research was conducted on April 1 - May 31 2019 at the independent practice midwife Johana
Widijati. The research design used was analytical using a retrospective method. The total population
is 700 people. Sampling using the Quota Sampling technique with the number of respondents 70
people according to inclusion and exclusion criteria. The independent variable of hormonal
contraception. The dependent variable is the incidence of changes in menstrual patterns.
The statistical test results of chi square significance 0.05 with p-value 0.016 <0.05 so that Ho is
rejected and H1 is accepted, which means there is a relationship between hormonal contraception and
the incidence of pattern change. The use of hormonal contraceptives, which can change patterns
caused by the presence of the hormone progesterone, which can inhibit follicle growth, inhibits
ovulation.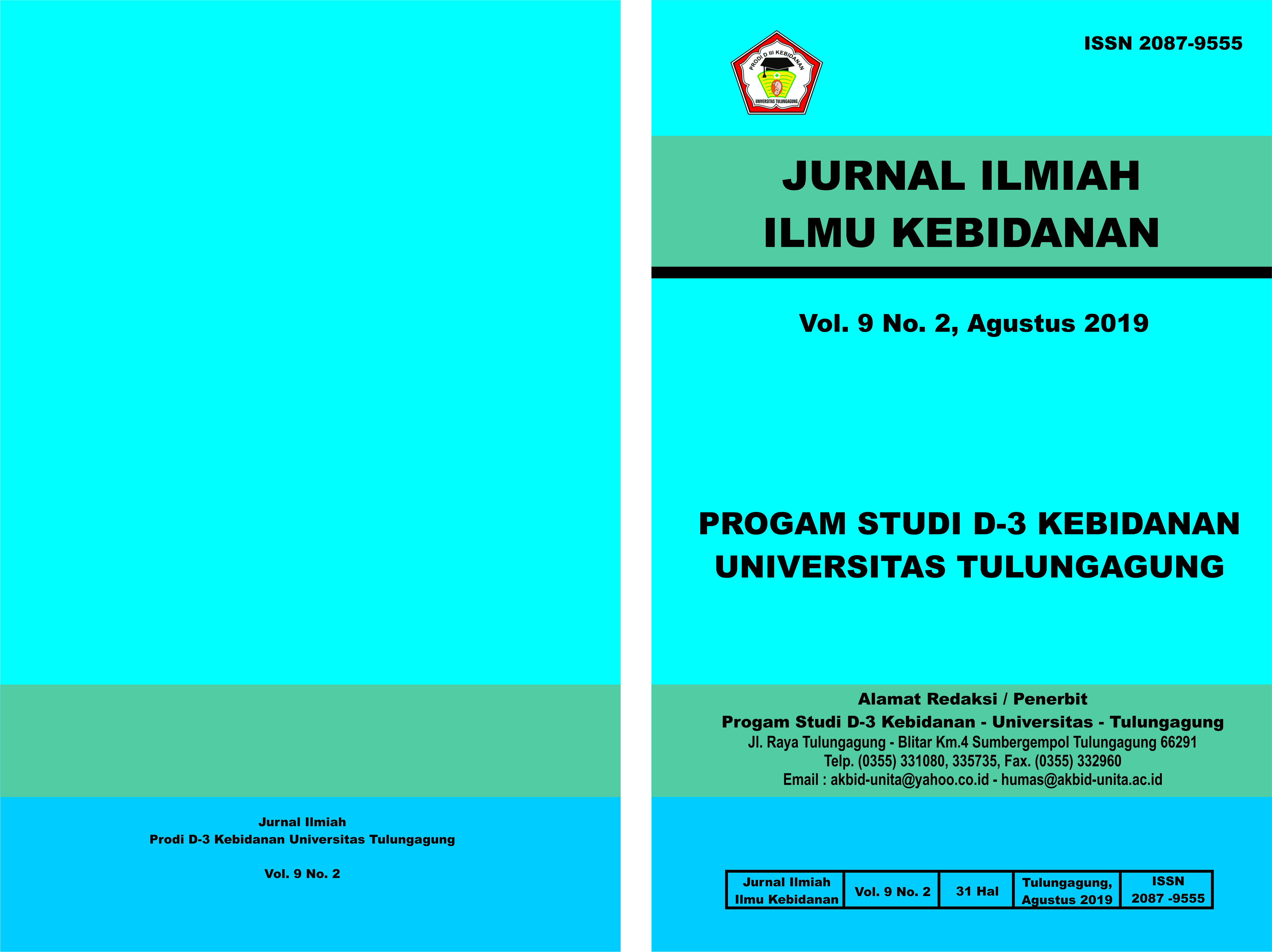 How to Cite
Widya Lusi Arisona. (2019). HUBUNGAN PEMAKAIAN KONTRASEPSI HORMONAL DENGAN KEJADIAN PERUBAHAN POLA HAID DI PMB JOHANA WIDIJATI. Kebidanan, 9(2), 1-5. Retrieved from https://journal.unita.ac.id/index.php/bidan/article/view/311