Analisis Pertumbuhan Modal Kerja (Working Capital) Bersih terhadap Perubahan Keuntungan PT. Asabri (Persero)
Sri Sutrismi

Fakultas Ekonomi Universitas Tulungagung

Claudia

Fakultas Ekonomi Universitas Tulungagung
Abstract views:
255
,
PDF downloads:
286
Abstract
Abstraksi
Tujuan penelitian ingin mengetahui bagaimana  pertumbuhan Net Working capiltal   dalam meningkatkan keuntungan  dibandingkan  equitynya (ROE) pada PT. Asabri (Persero)  periode  th 2012 - 2016 (menjelang isu kasus)? 
Metode pengumpulan data digunakan teknik dokumentasi, dilihat dari laporan Financialnya , dan beberapa rasio terkait, pengambilan data dari Laporan Financial rutin ke publik. Teknik Analisis Data  yang dilakukan penulis adalah sebagai berikut: (1) Menghimpun data /informasi terkait isu PT Asabri Tbk.(2) Merekap laporan financial periode tahun 2012-2016 dari Laporan Financial rutin ke publik. (3) Melakukan perhitungan pertumbuhan modal kerja bersih selama lima periode yaitu dari tahun 2012 s/d 2016. (4) Melihat realita kejadian dengan menghitung perubahan Net Working Capital, perubahan penjualan, perubahan ROE. (5) Menarik kesimpulan berdasarkan rumusan masalah. Hasil analisis data bahwa Laba yang dibandingkan modal sendiri atau Equity (ROE) sejak tahun 2012 sampai tahun 2016 berdampak pada pertumbuhan Working Capital bersih, sebab value ROE yang meningkat bersamaan dengan meningkatnya nilai Working capital  bersih meskipun kurang seimbang antara pertumbuhan modal kerja dengan pertumbuhan keuntungan, sehingga pelimpahan ke investasi saham kurang produktif. Terbukti isu kasus karena kesalahan pengalihan investasi ke saham yang kurang produktif sehingga mengganggu likuiditas keuangan.
Kata kunci: Isu kasus, Modal kerja, ROE
Abstract
The aim of this research is to know how the growth of Net Working Capital in increasing profit compared to equity (ROE) at PT. Asabri (Persero) for the period 2012 - 2016 (ahead of the issue of the case)?
Data collection methods used documentation techniques, seen from the financial report, and several related ratios, taking data from routine financial reports to the public. The data analysis technique carried out by the author is as follows: (1) Collecting data / information related to the issue of PT Asabri Tbk. (2) Recapping financial reports for the period 2012-2016 from routine financial reports to the public. (3) Calculating the growth in net working capital for five periods, from 2012 to 2016. (4) Looking at the reality of events by calculating changes in Net Working Capital, changes in sales, changes in ROE. (5) Draw conclusions based on the formulation of the problem. The results of the data analysis show that Profits compared to equity (ROE) from 2012 to 2016 have an impact on the growth of net working capital, because the ROE value increases along with the increase in net working capital value even though it is less balanced between working capital growth and profit growth. so that the transfer to stock investment is less productive. The case was proven due to an error in transferring investment to unproductive stocks that disrupted financial liquidity.
Keyword: case issue, Working Capital, ROE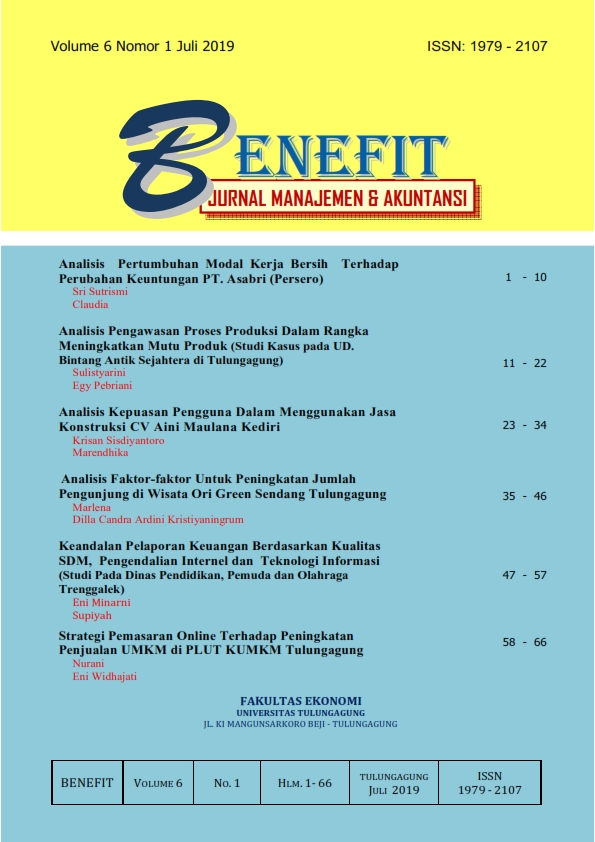 How to Cite
Sri Sutrismi, & Claudia. (2019). Analisis Pertumbuhan Modal Kerja (Working Capital) Bersih terhadap Perubahan Keuntungan PT. Asabri (Persero). BENEFIT , 6(1), 1-10. Retrieved from https://journal.unita.ac.id/index.php/benefit/article/view/261