Analisis Implementasi Sosialisasi Program Keluarga Berencana di Puskesmas Pucanglaban Kabupaten Tulungagung
Sri Sutrismi

Fakultas Ekonomi Universitas Tulungagung

Suprihatin

Fakultas Ekonomi Universitas Tulungagung
Abstract views:
448
,
PDF downloads:
748
Abstract
ABSTRAKSI
Program Keluarga Berencana (KB) berupaya menekan laju pertambahan penduduk  mewujudkan Millenium Development Goals (MDGs), yakni: meminimalkan rating kurang sejahtera, rating meninggalnya kaum hawa (ibunda), kesetaraan gender dan kesehatan perempuan. Puskesmas Pucanglaban salah satu yang memiliki tanggung jawab keberhasilan program tersebut.   
Tujuan penelitian ini  ingin mengetahui: (1) Faktor yang menghambat sosialisasi program KB (2) Faktor yang mendukung sosialisasi program KB (3) Kebijakan sosialisasi program KB yang optimal. Metode analisis dengan  teknik analisis data deskriptif kuantitatif dengan bantuan analisis SWOT. Hasil penelitian Kebijakan sosialisasi program KB yang optimal, (1) Memanfaatkan koordinasi komunikator internal maupun eksternal (2)  Partisipasi masyarakat  (3) Memanfaatkan penganggaran pemerintah untuk advokasi dan komunikasi informasi edukasi (KIE), fasilitator Keluarga Berencana desa, (4) Melibatkan Swasta, media.
Kata Kunci: Sosialisasi program KB,  Puskesmas, SWOT.
The Family Planning Program (KB) seeks to reduce the rate of population growth in realizing the Millennium Development Goals (MDGs), namely: minimizing the rating of being less prosperous, rating the death of women (mothers), gender equality and women's health. The Pucanglaban Community Health Center has the responsibility for the success of the program.
The purpose of this study is to determine: (1) factors that hinder the socialization of family planning programs (2) factors that support the socialization of family planning programs (3) optimal socialization policies for family planning programs. The analysis method used was quantitative descriptive data analysis technique with the help of SWOT analysis. Results of research on optimal family planning program socialization policies, (1) Utilizing the coordination of internal and external communicators (2) Community participation (3) Utilizing government budgeting for advocacy and communication information education (IEC), village family planning facilitators, (4) involving private sector, media.
Keywords: Socialization of family planning programs, Puskesmas, SWOT.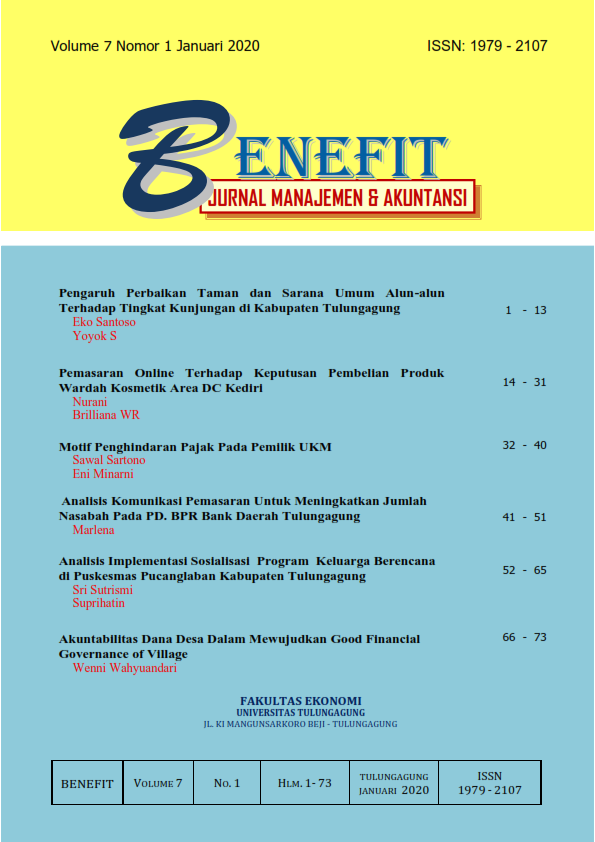 How to Cite
Sri Sutrismi, & Suprihatin. (2020). Analisis Implementasi Sosialisasi Program Keluarga Berencana di Puskesmas Pucanglaban Kabupaten Tulungagung. BENEFIT , 7(1), 52-65. Retrieved from https://journal.unita.ac.id/index.php/benefit/article/view/272