Analisis Kepuasan Pengguna Dalam Menggunakan Jasa Konstruksi CV Aini Maulana Kediri
Krisan Sisdiyantoro

Fakultas Ekonomi Universitas Tulungagung

Marendhika M.

Fakultas Ekonomi Universitas Tulungagung
Abstract views:
189
,
PDF downloads:
356
Abstract
Abstrak
Kepuasan   pelanggan  sangatlah  penting  bagi setiap jenis  usaha  terutama usaha yang menawarkan jasa di mana tidak ada produksi rill yang diperjualbelikan secara langsung sebagai pemuas kebutuhan sebagaimana dalam usaha jenis lain yang menawarkan benda sebagai pemuasan kebutuhan. Kualitas pelayanan didefinisikan sebagai suatu upaya untuk memenuhi kebutuhan maupun keinginan pelanggan secara tepat dengan menyesuaikan  apa yang diharapkan  pelanggan dalam hal bukti fisik, reliabilitas, daya tanggap, jaminan maupun empati yang tentunya berperan penting semua. Tujuan penelitian yaitu mendeskripsikan kepuasan pengguna/pelanggan jasa terhadap kualitas pelayanan jasa konstruksi pada  CV Aini Maulana di Kediri. Metode survei  pendekatan deskriptif dilakukan dalam penelitian ini. Data dikumpulkan melalui kuesioner, sedangkan pengambilan sampelnya dengan teknik random sampling sejumlah 60 responden. Teknik analisis data menggunakan Indeks Kepuasan Pelanggan (Costumer Satisfaction Index), IPA (Importance Performance Analysis) dan Diagram Kartesius. Skor rata-rata kinerja dan skor rata-rata harapan yang dihasilkan penelitian ini masing-masing sebesar 4,27 dan sebesar 4,30. Kepuasan pengguna/pelanggan rata-rata atas kualitas pelayanan berdasarkan tingkat kesesuaian (TKi) sebesar 99,12% (merasa cukup puas). Tingkat kinerja pelayanan jasa konstruksi CV Aini Maulana rata-rata masih dibawah harapan pelanggan/pengguna, berarti masih banyak memerlukan pembenahan. Melalui diagram kartesius berhasil memetakan kualitas pelayanan menjadi 4 bagian: (1) Kuadran A merupakan wilayah dengan anggapan faktor/atribut sangat penting bagi pengguna tetapi kenyataan kinerjanya masih kurang. Atribut dalam wilayah ini adalah sarana fasilitas pisik perusahaan (gedung, ruang tunggu, peralatan, perlengkapan, toilet, dan tempat parkir); (2) Kuadran B merupakan wilayah dengan anggapan faktor/atribut penting bagi pelanggan dimana anggapan kinerja sudah baik sesuai harapan. Atribut harus dipertahankan di kuadran ini; (3) Kuadran C sebagai wilayah dimana pengguna/pelanggan menganggap faktor/atribut ini kurang penting dan kurang memenuhi harapan dalam hal pelaksanaannya, tidak ada prioritas perbaikan kinerja oleh manajemen; (4) Kuadran D adalah faktor/atribut dengan anggapan kurang penting bagi pengguna/pelanggan namun dilaksanakan dengan baik bahkan cenderung agak berlebihan oleh perusahaan.
Kata kunci:   Bukti nyata, kehandalan, daya tanggap, jaminan, empati, kinerja dan harapan layanan.
Abstract
Customer satisfaction is very important for every type of business, especially businesses that offer services where no real production is traded directly to satisfy needs as in other types of businesses that offer objects to satisfy needs. Quality of service is an effort to meet the needs and desires of customers and the accuracy of delivery in balancing customer expectations including physical evidence, reliability, responsiveness, assurance and empathy, each of which has an equally important role. This study aims to describe the satisfaction of users / customers of services to the quality of construction services at CV Aini Maulana in Kediri. A survey method in this research with a descriptive approach. Data collection was carried out using a questionnaire, while sampling using random sampling by taking a sample of 60 respondents. Data analysis techniques using the Customer Satisfaction Index (Customer Satisfaction Index), IPA (Importance Performance Analysis) and Cartesian Diagrams. The results showed that the average score of performance was 4.27 and the average score of expectation was 4.30. The average user / customer satisfaction for service quality based on the level of conformity (TKI) of 99.12% (feeling quite satisfied). The level of performance of construction services CV Aini Maulana on average is still below the expectations of customers / users, meaning there are still many that need improvement. Through the Cartesian diagram successfully mapped the quality of service into 4 parts: (1) Quadrant A is an area that contains factors / attributes that are considered very important by users but the reality of their performance is still lacking. Attributes in this area are the complete physical facilities owned by the company (buildings, waiting rooms, equipment, equipment, toilets, and parking lots); (2) Quadrant B is an area that contains factors / attributes that are considered important by customers and in fact the performance is good as expected. The attributes included in this quadrant must be preserved; (3) Quadrant C shows the area that contains factors / attributes that are considered less important for users / customers and their implementation is considered not meeting the expectations of users / customers, in other words management does not prioritize to improve performance; (4) Quadrant D shows the factors / attributes that are located in this quadrant are considered less important by users / customers but the implementation has been done well by the company and even tends to be excessive.
 Keyword:        Tangible, reliability, renponsiveness, assurance, emphaty, performance, importance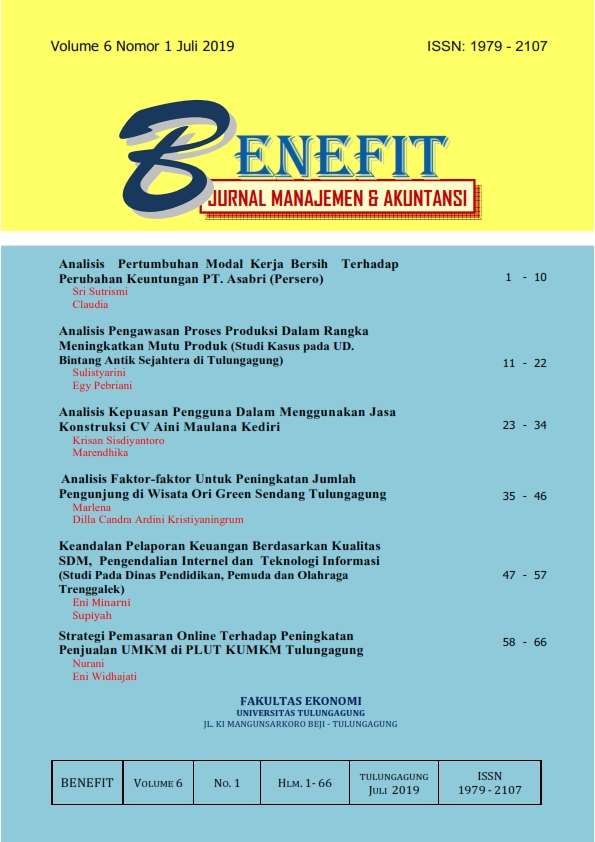 How to Cite
Krisan Sisdiyantoro, & Marendhika M. (2019). Analisis Kepuasan Pengguna Dalam Menggunakan Jasa Konstruksi CV Aini Maulana Kediri. BENEFIT , 6(1), 23-34. Retrieved from https://journal.unita.ac.id/index.php/benefit/article/view/263