Perilaku Kecurangan Akademik Berdasarkan Dimensi Fraud Diamond
Eni Minarni

Fakultas Ekonomi Universitas Tulungagung

Krisan Sisdiyantoro

Fakultas Ekonomi Universitas Tulungagung

Etik Flourensya S.

Fakultas Ekonomi Universitas Tulungagung
Abstract views:
1195
,
PDF downloads:
399
Abstract
ABSTRAKSI
Tujuan penelitian guna melihat perilaku tindak kecurangan akademik atas pengaruh dimensi fraud diamond  khususnya di Universitas Tulungagung pada prodi Akuntansi. Stratified Random Sampling digunakan dalam pengambilan sampel sebanyak 52 responden. Data primer dikumpulkan dengan survei kuesioner secara langsung. Data dianalisis memakai regresi berganda dan pengujian secara bersama dan parsial untuk hipotesisnya.
Secara bersama variabel independen (tekanan; kesempatan; rasionalisasi dan kemampuan) signifikan mempengaruhi variabel dependen (perilaku kecurangan akademik) melalui F hitung (15,216 >  t tabel 2,798. Secara parsial setiap variabel bebas signifikan mempengaruhi perilaku kecurangan akademik khususnya kesempatan dan kemampuan t hitung masing-masing 2,443 dan 3,125 > 2,012 hasil t tabel. Sementara variabel tekanan dan variabel rasionalisasi masing-masing tidak mempengaruhi perilaku kecurangan akademik secara signifikan terlihat pada nilai t-hitung lebih kecil dari t-tabel. Perilaku kecurangan akademik adalah kontribusi bersama faktor tekanan, kesempatan, rasionalisasi serta kemampuan sebesar 56,40%, berdasarkan hasil nilai R2 (0,564) sedangkan 43,60% sisanya adalah penjelasan dari variabel lain.
Kata kunci: Kecurangan Akademik, Perilaku, Froud Diamond.
.Abstraction
This study aims to examine the behavior of academic fraud on the influence of the fraud diamond dimension, especially at the University of Tulungagung in the Accounting study program. Stratified Random Sampling was used in the sampling of 52 respondents. Primary data was collected by direct questionnaire survey. The data were analyzed using multiple regression and joint and partial testing for the hypothesis.
Together the variables X1 (pressure), X2 (opportunity), X3 (rationalization) and X4 (ability) significantly affect Y (academic cheating behavior) through F count (15.216 > t table 2.798. Partially each independent variable significantly affects academic cheating behavior especially the opportunity and ability to count 2.443 and 3.125 > 2.012, respectively, the results of the t table. Meanwhile, the pressure variable and the rationalization variable do not significantly affect academic cheating behavior, it can be seen from the t-count which is less than the t-table. academic cheating is a joint contribution by pressure, opportunity, rationalization and ability by 56.40%, based on the results of the R2 value (0.564) while the remaining 43.60% is the explanation of other variables.
Keyword: academic cheating, behavior, Diamond Froud.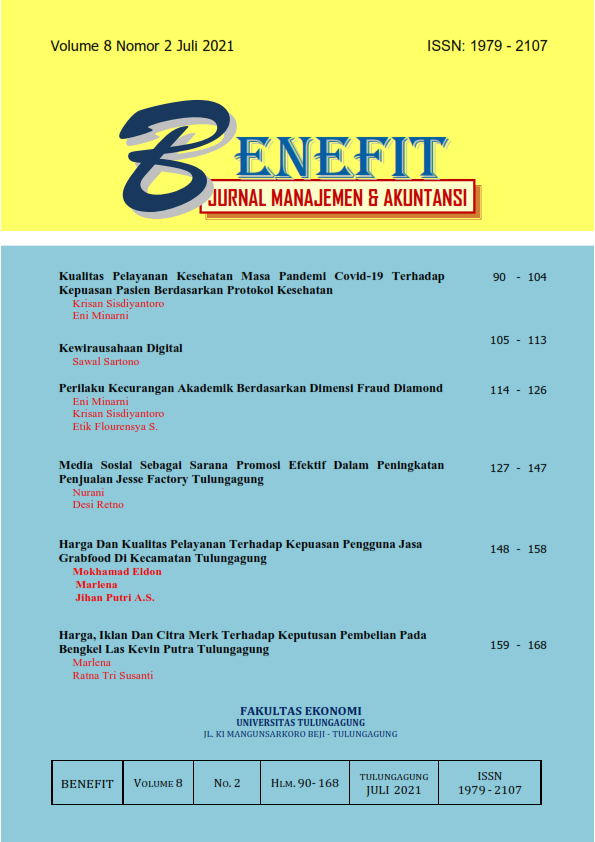 How to Cite
Eni Minarni, Krisan Sisdiyantoro, & Etik Flourensya S. (2021). Perilaku Kecurangan Akademik Berdasarkan Dimensi Fraud Diamond. BENEFIT , 8(2), 114-126. Retrieved from https://journal.unita.ac.id/index.php/benefit/article/view/431