PELAKSANAAN PERATURAN TENTANG PERWAKAFAN
SURJANTI

UNIVERSITAS TULUNGAGUNG
Abstract views:
24
,
PDF downloads:
13
Abstract
Abstrak.
Wakaf merupakan istilah yang yang dikenal dalam Islam yaitu suatu perbuatan hukum seseorang  untuk menyerahkan seluruh atau sebagian hartabenda miliknya untuk dimanfaatkan selamanya untuk keperluan ibadah. Didalam ajaran Islam dikataakan bahwa" kalau ada seorang meninggal, maka terputuslah  segala amalnya,  kecuali sedekah jariyah (wakaf), ilmu pengetahuan dan doa anaknya.
Adapun tujuan dari penulisa ini adalh untuk mngetahui proses perwakafan dan hambatan perwakafaan. Metode penelitian yang dipakai adalah penelitian kepustakaan, antara lain, buku, dan dokumen yang berkaitan dengan permasalahan. Dari data yang terkumpul kemudian dianalisa secara deskriptif analisis yaitu dengan mendeskripsikan terperinci dan sistematis yang pada akhirnya ditarik sebuah kesimpulan.Proses perwakafan tanah milik, sebagian besar telah memenuhi UU  No.41 Tahun 2004,  masih adanya anggapan bahwa tanah yang telah dengaan ikhlas diberikan sebagi wakaf  dengan ikrar  wakaf keluarga sudah mempunyai kekuatan hukum
Kata Kunci : wakaf, tanah milik
IMPLEMENTATION OF REGULATIONS CONCERNING WALKING
Abstract.
Waqf is a term known in Islam which is a legal act of a person to surrender all or part of his property to be used forever for worship purposes. In Islamic teachings it is said that "if someone dies, then all his deeds are cut off, except alms Jariyah (waqf), knowledge and prayers for his child.
The purpose of this paper is to know the process of waqf and barriers to waqf. The research method used is library research, among others, books, and documents related to the problem. From the data collected, it is analyzed descriptively by describing in detail and systematically which in the end a conclusion is drawn. The process of endowment of owned land, most of which have complied with Law No. 41 of 2004, there is still an assumption that land that has been sincerely given as waqf with the pledge of family waqf already has legal force
Keywords: waqf, land owned
Downloads
Download data is not yet available.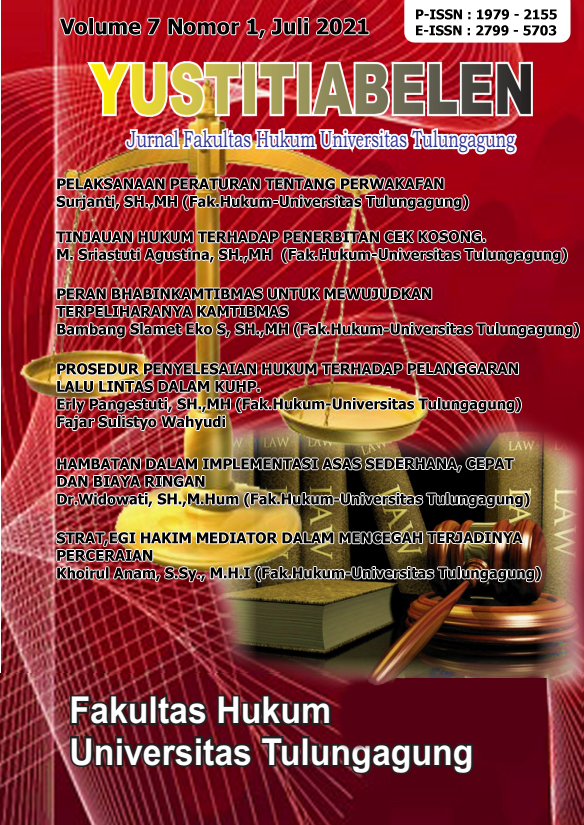 How to Cite
SURJANTI. (2021). PELAKSANAAN PERATURAN TENTANG PERWAKAFAN . Jurnal YUSTITIABELEN, 7(1), 1-19. https://doi.org/10.36563/yustitiabelen.v7i1.318