Bauran Promosi Dalam Pengambilan Keputusan Mahasiswa Memilih Universitas Tulungagung
Nurani Nurani

Fakultas Ekonomi Universitas Tulungagung

Marlena Marlena

Fakultas Ekonomi Universitas Tulungagung

Fahrul Tri Rachmanto

Fakultas Ekonomi Universitas Tulungagung
Abstract views:
187
,
PDF downloads:
209
Abstract
ABSTRAK
Perguruan tinggi baik berupa PTN maupun PTS yang didirikan di Tulungagung, mempunyai tujuan yang sama yaitu untuk menarik minat siswa SMA atau SMK yang telah selesai studinya. Strategi pemasaran yang menarik ditentukan dalam upaya meningkatkan jumlah pendaftar di perguruan tinggi, salah satunya Universitas Tulungagung. Kegiatan pemasaran adalah promosi yang terdiri dari periklanan, promosi penjualan, dan pemasaran langsung. Kegiatan ini sebagai upaya agar alumnus siswa SMA maupun SMK tertarik dan pada akhirnya mempengaruhi mereka dalam mengambil keputusan dalam memilih pendidikan tinggi khususnya di Universitas Tulungagung.
Tujuan dari penelitian yang dilakukan agar diketahui besar pengaruh variabel periklanan, promosi penjualan, dan pemasaran langsung, terhadap keputusan memilih Universitas Tulungagung serta menentukan variabel dominan atas penelitian yang dilakukan. Metode explanatory research dilakukan, tipe non eksperimental dalam desain penelitian serta stratified random sampling dalam teknik sampelnya. Pengumpulan data melalui kuesioner dan observasi. Berbagai uji dilakukan dalam mendukung regresi berganda yang dilakukan.
Persamaan hasil regresi dihasilkan  Y = 5,139 + 0,193X1 + 0,413X2 + 0,110X3 Ketiga variabel bebas berpengaruh simultan terhadap variabel terikat dengan knilai F sebesar 41.758. Secara parsial variabel periklanan dan promosi penjualan berpengaruh positif dan signifikan, sedangkan variabel pemasaran langsung berpengaruh secara positifknamun tidak signifikan. Variabel yang dominan mempengaruhi adalah promosi penjualan dengan standardized beta memiliki nilai terbesar yaitu 6,046 dan R².senilai 56,6%.
Kata kunci : Bauran promosi, pengambilan keputusan,Universitas Tulungagung
Abstraction
Universities in the form of PTN and PTS which were established in Tulungagung, have the same goal, namely to attract high school or vocational high school students who have finished their studies. An attractive marketing strategy is determined in an effort to increase the number of registrants in higher education institutions, one of which is Tulungagung University. Marketing activities are promotions which consist of advertising, sales promotion, and direct marketing. This activity is an effort to attract high school and vocational high school alumnus and ultimately influence them in making decisions in choosing higher education, especially at Tulungagung University.
The purpose of this research is to know the influence of advertising, sales promotion, and direct marketing variables on the decision to choose Tulungagung University and determine the dominant variable of the research conducted. The explanatory research method was carried out, non-experimental in the research design and stratified random sampling in the sample technique. Collecting data through questionnaires and observation. Various tests were carried out in support of the multiple regression carried out.
The resulting regression equation Y = 5.193 + 0.193X1 + 0.413X2 + 0.110X3 The three independent variables have a simultaneous effect on the dependent variable with an F value of 41.758. Partially, advertising and sales promotion variables have a positive and significant effect, while direct marketing variables have a positive but not significant effect. The dominant variable influencing is sales promotion, standardized beta with has the biggest value is 6,046 and R².worth 56.6%.
 Keywords: Promotion mix, decision making, Tulungagung University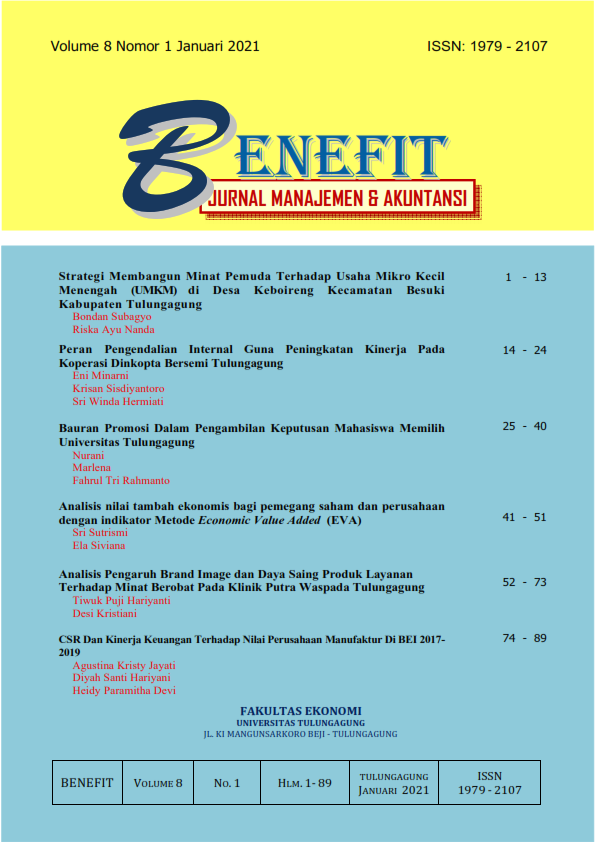 How to Cite
Nurani, N., Marlena, M., & Tri Rachmanto, F. (2021). Bauran Promosi Dalam Pengambilan Keputusan Mahasiswa Memilih Universitas Tulungagung. BENEFIT , 8(1), 25-40. Retrieved from https://journal.unita.ac.id/index.php/benefit/article/view/382