PROSEDUR PENYELESAIAN HUKUM TERHADAP PELANGGARAN LALU LINTAS DALAM KUHP
ERLY PANGESTUTI

UNIVERSITAS TULUNGAGUNG
Abstract views:
25
,
PDF downloads:
22
Abstract
Abstrak
Indonesia adalah  negara  berkembang, namun kesadaran untuk menerapkan tertib berlalu lintas masih sangat rendah .Untuk itu pemerintah telah menyusun  peraturan yang berfungsi untuk mengatur tingkah laku pemakai jalan yaitu Undang-Undang No.14 Tahun1992 sebagaimana dirubah dengan Undang-Undang yang baru yaitu No.22 Tahun 2009 tentang Lalu Lintas Angkutan Jalan . Dari hasil penelitian menunjukkan bagaimana pengaturan hukum terhadap pelanggaran lalu lintas serta  prosedur penyelesaian nya dalam KUHAP. Pertama pengaturan hukum terhadap pelanggaran lalu lintas diatur menurut Undang-Undang Nomor 22 Tahun 2009 tentang lalu lintas dan angkutan jalan. Kedua, prosedur penyelesaian hukum dalam KUHP berupa pemeriksaan permulaan dilakukan ditempat kejadian .Penindakan terhadap pelanggaran mengunakan formulir tilang atau blangko tilang yang berisi catatan penyidik. Proses pemeriksaan dan pemanggilan menghadap persidangan Pengadilan. Dalam hal penjatuhan Putusan Penyitaan pelanggaran lalu lintas jalan dalam KUHAP  Pasal 38 dan mengenai pengembalian benda sitaan dalam pelanggaran lalu lintas jalan diatur dalam Pasal 215.Kesimpulan pada prinsipnya keberadaan peraturan lalu lintas bertujuan agar pelanggaran lalu lintas yang dilakukan oleh pemakai jalan dapat ditekan seminimal mungkin. Dalam acara pemeriksaan pelanggaran lalu lintas berlaku ketentuan hukum sebagaimana diatur dalam Pasal 211sampai 216 KUHAP.
Kata Kunci. Penyelesaian Hukum, Pelanggaran, Lalu Lintas
LEGAL SETTLEMENT PROCEDURES AGAINST TRAFFIC VIOLATIONS IN KUHP
Abstract
               Indonesia is a developing country, but awareness to implement traffic order is still very low. For this reason, the government has compiled a regulation that functions to regulate the behavior of road users, namely Law No. 14 of 1992 as amended by a new law, namely No. 22 of 2009 concerning Road Transport Traffic. The results of the study show how the legal arrangements for traffic violations and their settlement procedures are in the Criminal Procedure Code. First, the legal regulation of traffic violations is regulated according to Law No. 22 of 2009 concerning road traffic and transportation. Second, the legal settlement procedure in the Criminal Code in the form of a preliminary examination is carried out at the scene. Actions against violations use a ticket form or a ticket form containing the investigator's notes. The process of examination and summons to appear in court. In the case of confiscation of road traffic violations in Article 38 of the Criminal Procedure Code and regarding the return of confiscated objects in road traffic violations, it is regulated in Article 215. The conclusion is that in principle the existence of traffic regulations is aimed at reducing traffic violations committed by road users to a minimum. In the event of examining traffic violations, the legal provisions as regulated in Articles 211 to 216 of the Criminal Procedure Code apply.
Keywords. Legal Settlement, Violation, Traffic 
Downloads
Download data is not yet available.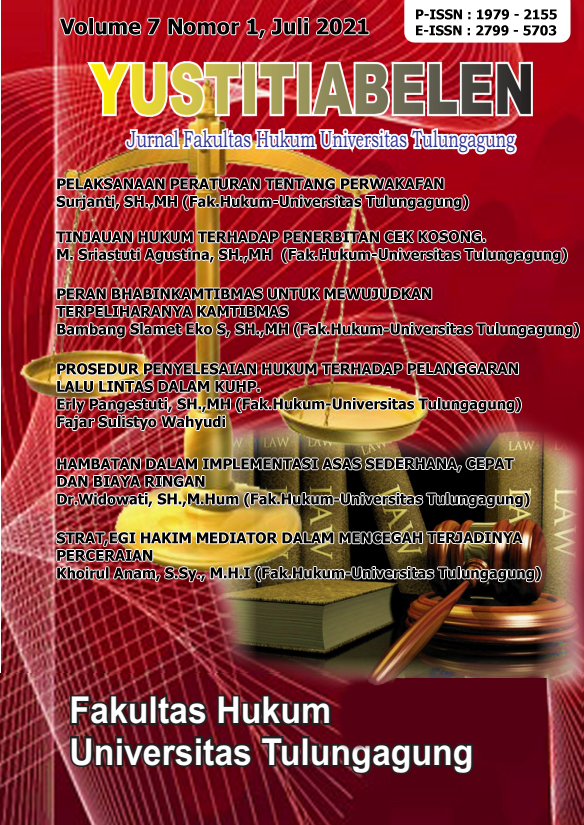 How to Cite
ERLY PANGESTUTI. (2021). PROSEDUR PENYELESAIAN HUKUM TERHADAP PELANGGARAN LALU LINTAS DALAM KUHP. Jurnal YUSTITIABELEN, 7(1), 72-93. Retrieved from https://journal.unita.ac.id/index.php/yustitia/article/view/321