Peran Pengendalian Internal Guna Peningkatan Kinerja Pada Koperasi Dinkopta Bersemi Tulungagung
Eni Minarni

Fakultas Ekonomi Universitas Tulungagung

Krisan Sisdiyantoro

Fakultas Ekonomi Universitas Tulungagung

Sri Winda Hermiati

Fakultas Ekonomi Universitas Tulungagung
Abstract views:
166
,
PDF downloads:
422
Abstract
ABSTRAK
Sebagai tujuan penelitian yang dilakukan peneliti yaitu peran aspek pengendalian internal (lingkungan pengendalian, penilaian atas risiko, aktivitas proses pengendalian, informasi komunikasi dan pemantauan) di Koperasi Dinkopta Bersemi Tulungagung.
Sebagai penelitian deskriptif, sumber informasi diperoleh dari Pengurus dan Pengawas dan perwakilan anggota Koperasi. Wawancara dilakukan disertai observasi serta dokumentasi untuk mengumpulkan data penelitian. Kelanjutan kegiatan berupa uji melalui triangulasi sumber dan triangulasi teknik untuk keabsahannya. Proses reduksi, display atas data dilakukan dalam analisis dilanjutkan penarikan kesimpulan lalu memverifikasi data.
Penelitian menunjukkan bahwa Sistem Pengendalian   Intern   (SPI)   Koperasi Dinkopta Bersemi Tulungagung telah dilaksanakan dengan cukup baik, dalam pelaksanaan aspek pengendalian intern setiap aspek yang diteliti sesuai hasil penelitian sebagai berikut: 1) cukup sesuai dalam hal lingkungan pengendalian, 2) sudah sesuai dalam hal penilaian risiko dan 3) kondisi belum sesuai untuk aktivitas pengendalian, informasi dan komunikasi serta monitoring pemantauan.
Peran unsur pengendalian intern terhadap kinerja pengurus dan pengawas adalah bahwa pengendalian internal sangat dibutuhkan untuk perusahaan, organisasi bahkan koperasi. Sistem pengendalian menjadi kebutuhan manajemen dalam rangka menjamin kondisi aman atas aset perusahaan, meyakinkan  laporan yang dibuat sebagai sesuatu yang terpercaya, menekankan efisiensi usaha serta secara kontinyu mamantau kesesuaian ketetapan kebijaksanaan dan pelaksanaannya. Pengendalian intern yang bagus, pengurus maupun pengawas sebagai pelaksana manajemen koperasi akan lebih meningkatkan kinerjanya dengan menjalankan amanah, tugas dengan beban yang lebih ringan, tanpa menanggung adanya prasangka buruk atas tanggung jawab dan wewenangnya dari anggota lainnya.
Kata Kunci: Unsur SPI, Pengendalian Internal, Kinerja Koperasi
.
Abstraction
As the purpose of the research conducted by the researcher, namely the role of internal control aspects (control environment, risk assessment, control process activities, communication and monitoring information) in the Cooperative Dinkopta Bersemi Tulungagung.
As a descriptive study, the source of information was obtained from the Management and Supervisors and representatives of the members of the Cooperative. Interviews were conducted with observation and documentation to collect research data. Continuation of activities in the form of testing through triangulation of sources and triangulation of techniques for validity. The reduction process, display of data is carried out in the analysis followed by drawing conclusions and then verifying the data.
The research shows that the Internal Control System (SPI) of the Cooperative Dinkopta Bersemi Tulungagung has been implemented quite well, in the implementation of the internal control aspects of each aspect studied according to the results of the study as follows: 1) quite appropriate in terms of the control environment, 2) is appropriate in terms of assessment risk and 3) conditions are not suitable for control, information and communication activities as well as monitoring and monitoring.
The role of internal control elements on the performance of management and supervisors is that internal control is needed for companies, organizations and even cooperatives. The control system is a management requirement in order to ensure the safe condition of the company's assets, ensure that reports are made as reliable, emphasize business efficiency and continuously monitor the suitability of policy provisions and their implementation. Good internal control, administrators and supervisors as executor of cooperative management will further improve their performance by carrying out mandates, tasks with lighter burdens, without bearing any prejudice to their responsibilities and authorities from other members.
.Keywords: Elements of SPI, Internal Control, Cooperative Performance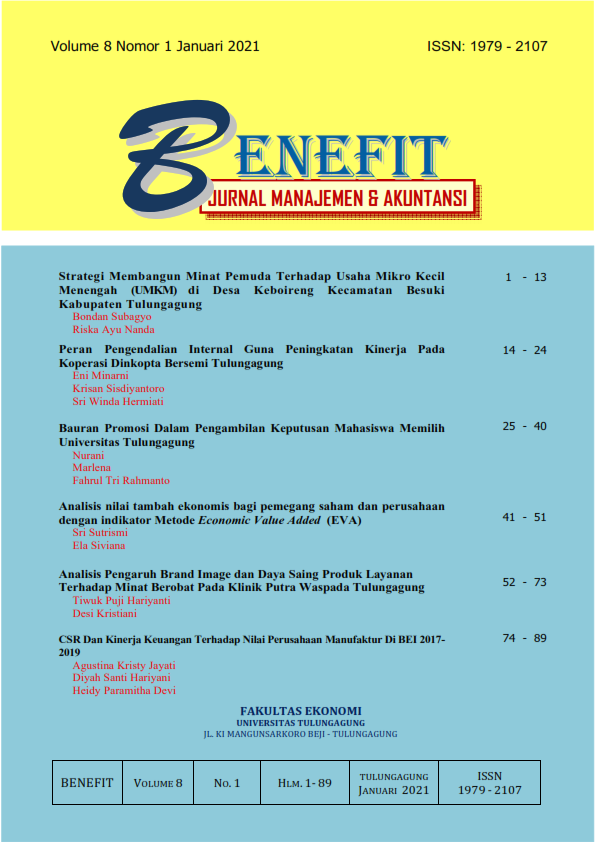 How to Cite
Minarni, E., Sisdiyantoro, K., & Winda Hermiati, S. (2021). Peran Pengendalian Internal Guna Peningkatan Kinerja Pada Koperasi Dinkopta Bersemi Tulungagung. BENEFIT , 8(1), 14-24. Retrieved from https://journal.unita.ac.id/index.php/benefit/article/view/380